Total fanatic: Fan says lucky hat helps
KU

win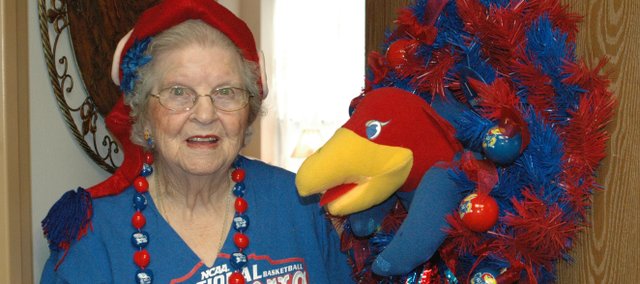 In the waning minutes of the Kansas men's basketball game Sunday, KU's move into the lead and victory over Purdue may have been because, back in Kansas, Florence "Pudd" Wasson put on her lucky hat.
The 92-year-old firmly believes in her good luck charm, a stocking cap complete with fake elf ears and striped in crimson and blue, given to her by friend and neighbor Carolyn Essary. It's part of Wasson's game-day ritual.
"My earrings are one of the first things that go on," she said recently, motioning to the Jayhawks adorning her earlobes.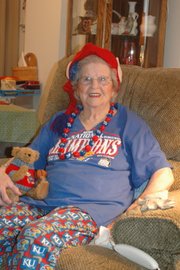 Then it's a KU shirt — preferably a 2008 national championship shirt — and Jayhawk-covered pajama pants. Completing the outfit are red shoes, a blue flower with a Jayhawk in the center for her hair, a large beaded necklace and two KU bracelets.
But not the lucky hat; not immediately, at least. Whenever the team is doing poorly, Wasson says putting her hat on seems to help the Jayhawks.
"I usually don't put it on until maybe they're losing," she said.
"One night she said, 'Oh! They're losing; I better get my hat on!'" Essary said.
Wasson didn't go to KU. In fact, she was born and raised in Missouri.
Wasson's love for basketball may come from her days in high school, which didn't field a football team, only a basketball team. She can't remember how her Jayhawk fan status began — her love for KU perhaps was adopted from her husband, who grew up in Bonner Springs and played basketball at Bonner Springs High School.
"I've always liked KU," she said. "I'm from Missouri originally, but I never really did follow Missouri."
Her love for KU expanded to a whole new level when her second-oldest daughter attended the school. Eventually, her grandchildren started buying her memorabilia. Now her great-grandson is a freshman at KU.
KU items can be found all over her apartment. A small sampling: a miniature Christmas tree atop her television, basketball salt-and-pepper shakers on the dining table, three blankets on her coach and a fourth that doubles as a poncho on a chair.
"I wore it to WalMart the other day, and the lady pharmacist took my picture," said Wasson, who's lived in Bonner Springs for the last 70 years of her life, aside from a short amount of time she spent with her daughter in Tucson.
She has attended a few games at Allen Fieldhouse and one in Tucson, when the University of Arizona played Kansas. But she prefers watching at home, where she likes yelling at her TV.
"I tell them, when they make a mistake, 'You shouldn't have done that!'" she said.
She has some concerns about this year's team.
"Sometimes, when they don't play so good, they act like they're tired," she said. "He (coach Bill Self) doesn't have the depth."
Wasson likes Self. She said she occasionally watches University of North Carolina games, just to see how former KU coach Roy Williams is doing. She was a bit bitter in 2003, when Williams left the Jayhawks.
"But Bill's done a pretty good job," she said of Williams' successor.
Particularly in 2008. Wasson said Mario Chalmers' game-tying basket in the national championship game was a very happy moment.
"I can still see him make that basket," she said.