BSHS

 boys golf continues season with home invite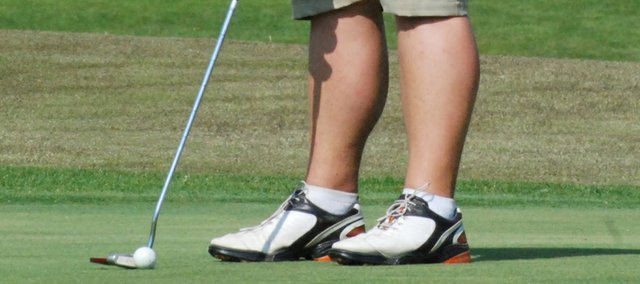 Tristan Abts transferred to Bonner Springs High School because he wanted a chance to play high school golf at a high level and improve his chances of earning a college scholarship.
He chose Bonner Springs because of its open-enrollment policy and has wasted little time making a difference in the Braves golfing rotation. He shot a 78 in the Sunflower Invitational on Saturday, finishing second behind Colby Yates of Tonganoxie.
Abts actually led Yates through the first six holes of the tournament but ran into trouble on the final three holes of the front nine.
Abts recorded bogeys on holes seven and eight and then hit a triple bogey on hole No.9.
In spite of the struggles on those holes, he finished second in the tournament.
"He is the real deal and can really play" coach Ryan Hull said. "He recorded a triple bogey and still finished second in the tournament."
Abts' performance led the team to a fifth-place finish in the tournament.
The Braves second-leading golfer was Marc McClain who shot an 84 and finished in seventh place. Jake Laing followed McClain, finishing with a 98 in the tournament.
"He has such a smooth swing that by the end of the year he should be able to put it all together," Hull said. "I expect him to be shooting in the 80s as a sophomore."
The team's penciled-in fourth golfer, Jason Van Maren, missed the tournament because of an injury. Van Maren had an X-ray on Monday to determine how long he would be out of action.
Thomas Hook shot a 118 in his first varsity tournament and Caleb Kivett shot a 127 in the tournament. In general, Hull said he likes the style and performance of his players early in the season.
"I knew that we would be good, but the biggest thing coming out of yesterday is the mental approach to the game," he said. "We have been working on is their mental approach and it was really good."
The Braves will host to a nine-hole home invitational at Sunflower Hills at 3 p.m. on Thursday, March 29. Basehor-Linwood's boys golf team will also be competing.