Plant, grow and share: community garden builds roots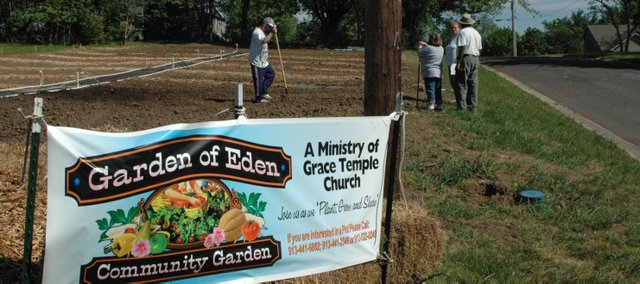 Sue Kennedy and her son, Bryan Schoonover, were nervous about planting their first vegetable seeds in their garden plot Thursday.
But Herman McConico, pastor of Grace Temple Church, was quick to reassure them.
"You have to have faith in the ability of the earth to produce; it's going to do its job," he said.
At the end of last year, a parcel of land across the street was donated to McConico's church, with the request that the church use it to benefit the whole community. That 100- by 50-foot parcel, on the northwest corner of Morse Avenue and 137th Street, has now been named the Garden of Eden, a community garden effort that already has brought together many in the community and promises to expand.
McConico said he got the idea of creating a community garden after running into a man working on a community garden in the Argentine neighborhood of Kansas City, Kan. The church agreed it would be a good way to benefit people both physically and spiritually.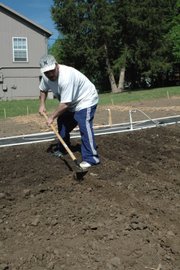 "We believe that … this helps (a person) in his physical needs in that it provides something for his table, but it also gives him or her an opportunity to exercise their body, and then it gives them the opportunity to interact with their community," McConico said. "So what we do then is build the whole person."
McConico said it took many people in the community coming together to get the garden started.
He first got help from local contractors and developers James People and Guy Tiner, who plowed the land to prepare it for gardening. Bruce Coleman of Coleman Equipment in Bonner then agreed to donate use of equipment, and Archie Sanders provided fertilizer.
McConico met with the Kansas City Community Garden organization and registered with them, giving gardeners access to purchase seeds at a low cost. He also met with the chair of the Olathe Community Garden to learn more about operating a community garden.
The biggest hurdle was providing water on the site. But John Helin, city manager, Mayor Clausie Smith and the Bonner Springs Utility Department waived a fee to get the garden connected, and the church built a sprinkler system.
To join the garden, growers pay a fee, $25 for one 10- by 15-foot plot or $40 for two, and they also share in the cost for water. Growers also must agree to the bylaws for maintaining their plot, though it's up to the growers from there.
"That's your garden, you plant what you want to plant. We only ask you to plant, grow and share," McConico said.
For the church, part of keeping the plot weeded and maintained is making sure that anything grown is picked in a timely manner and used, whether the growers eat it themselves or give it to others.
"You maintain the garden — if the earth will give her yield, we don't want you to let it to fall to the ground," McConico said.
Of course, growers also agree not to take items from others' plots. To that end, McConico hopes to put a fence around the garden to make sure that someone driving by won't decide to help themselves to the produce.
McConico said response to the garden is picking up, and the gardening effort may grow to another plot of land behind the church and to some land owned by Tiner on Metropolitan Avenue.
"People see we're out here working, and it just has to catch on," McConico said. "You have to see if it benefits you."
Kennedy and Schoonover decided to try out their luck in the garden, despite having no previous gardening experience, after a friend, Dottie Castleberry, told them about it.
Castleberry had seen the garden's sign while riding the Tiblow Transit. Though she has never planted produce before, she has picked it from a garden.
"I was so excited because I know other places have (community gardens)," she said.
She called Schoonover to help her get her plot ready, and he got excited about the idea himself.
"Bryan said, 'I think my mom would like this — she'd like to see the fruits of her labor,'" Castleberry said.
Schoonover said it didn't take long to convince Kennedy.
"In a year's worth of work, we may get $1,000 worth of vegetables," he said. "And for $25, that's a pretty good deal."
As the trio debated about the placement and depth of their seeds last week, Castleberry said she's not too concerned about knowing the ins and outs of vegetable growing. She's trying radishes, lettuce, beets, green beans, cabbage, cucumbers and squash for her first attempt.
"We'll just learn," she said. "I'm doing one (plot), and if it turns out good, I might do two plots next year."
To learn more about the garden, contact the church at 441-6882, 441-2546 or 522-0249.