Five questions: Nutrition scores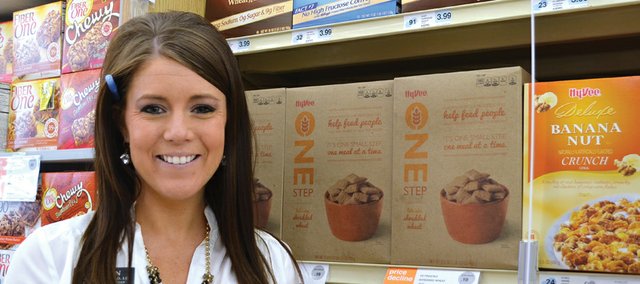 Megan Callahan, a registered dietitian at the Shawnee Hy-Vee, explains NuVal, one of the nutritional scoring systems grocery chains are using to help customers buy healthier products.
Q: What is NuVal?
A: It's a system that scores each food product on a scale of 1 to 100, with the scores displayed on shelf tags. The higher the NuvaVal score, the healthier the product is for you.
Q: How does it work?
A: In general, ingredients like sugar and unhealthy fats lower the score, while healthy nutrients like omega-3 raise it. Also, fewer ingredients generally mean a higher score. All fresh produce, for instance, scores above 90.
Q: Why was NuVal developed?
A: It's an easier way to shop. When customers look at nutrition labels, they don't know what to look at. Do you look at the sodium? Sugar? Total calories? Fat level? NuVal uses an algorithm that summarizes more than 30 different nutritional facts in a single number. And it was developed by an independent team of nutrition and medical experts, so you don't have to worry about any company buying in to make their products look better.
Q: Can it help you lose weight?
A: It's not the total answer for weight loss. But it can help you make healthier choices within categories.
Q: What are some NuVal surprises?
A: One example would be the dried cranberries people might want to add to a salad. Because of the sugar added, their NuVal score is a 3. You might want to use raisins instead; they score an 87. Another surprise is Jif reduced fat peanut butter. Because of the sodium, sugar and carbohydrates, it gets a 7. Jif regular peanut butter scores a 20.