BSHS

marching band plans indoor concert
The Bonner Springs High School Marching Band and dance team are preparing for a style of performance that is not only new to the school, but new to the area.
The groups will present an indoor show, "Marchapalooza," at 7 p.m. Tuesday, Nov. 13, in the high school auditorium. While such an indoor performance is common in northern areas of the country, Kerry Wixon, assistant band director, said as far as he knows, it will be one of a kind for Kansas City and something the band will continue with annually.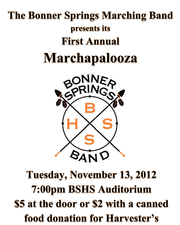 Wixon, who is from Minnesota, said an indoor marching band performance is common in his home state. Now in his first year at BSHS, Wixon talked to band director Bill Turley about having a similar performance in Bonner that they also could present to the younger students.
"I said this would be a great recruiting tool for our program, and really make kids excited at the elementary level," he said.
Wixon said he and Turley joined with Alisha Cobbins, coach of the Bonner Springs High School Dazzlers dance team, to plan the inaugural event and performances at the elementary and middle schools. They originally considered waiting until next year, but they decided to push ahead for this year in order to make the event both a fundraiser for the band trip planned next year and the band's community service project.
Admission will be $5 or $2 with a canned food donation to Harvester's. Lucas Aslin, football coach, will serve as master of ceremonies.
"It's kind of fun for the kids to bridge the gap between band and football, a lot of the kids, especially our football players in band, are excited to have him involved," Wixon said. He's been very supportive of our band program."
The added benefit of the concert is allowing the marching band and dance team to perform in front of more members of the community.
"We have a very select crowd at our fall performances, so we wanted to give the public a close up view of what we do, because in a parade, we'd just walk right by, and you only hear 30 seconds of us playing," Wixon said. "This will really give them a sampling of stuff we've been working on this year."