Cities split in support of sales tax
Burroughs retains seat; Senate incumbents ousted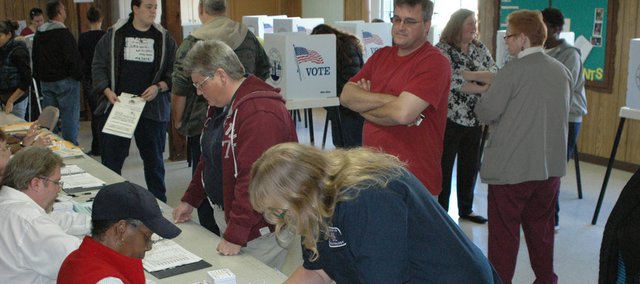 Bonner Springs Mayor Clausie Smith last week said he thought no news was good news when it came to a lack of attendance at the city's informational meeting about renewing its emergency services sales tax for another 10 years.
"When people don't show up, they generally agree with you," he said. "When they show up en masse, that's something different."
Smith's prediction held true Tuesday night — at least, in Bonner Springs' case.
In final but unofficial election results, the renewal of the quarter-cent sales tax passed by more than 57 percent, 1,571 votes "yes" to 1,165 votes in opposition.
An impressive 59 percent of registered Wyandotte County voters participated in Tuesday's election, a vast improvement from the August primary, when just 11.3 percent of voters went to the polls, the lowest turnout in the state.
The city of Edwardsville, which also had little resident turnout for public informational meetings, did not fare as well in its attempt to pass two new quarter-cent sales taxes, one to fund public safety capital items, the other to fund parks and recreation capital items. Both failed by similar margins: the public safety tax failed with 56 percent of the vote in opposition, 844 votes "no" to 660 votes "yes." The parks and recreation tax failed with 57.5 percent in opposition, 859 votes "no" to 636 votes "yes."
In local legislative races, Rep. Tom Burroughs, D-Kansas City, held on to his seat, while incumbents in the Senate districts covering Bonner Springs and Edwardsville were ousted.
Burroughs won reelection to his district with 4,758 votes to Republican challenger Tony Bukaty's 3,467 votes. The 33rd district's lines were redrawn this year so the district covers Bonner and Edwardsville as well as some areas of Kansas City, Kan.
In the 5th Senate district, incumbent Democrat Kelly Kultala earned nearly 1,000 votes more than Republican challenger Steve Fitzgerald in Wyandotte County, but she lost district-wide, 11,786 votes to Fitzgerald's 12,609. The district covers Bonner Springs in Wyandotte County and western Edwardsville.
In the 6th Senate district, which covers Edwardsville east of 102nd Street, a Democrat beat out the Republican incumbent. Pat Pettey earned 11,339 votes to Chris Steineger's 7,008.
Wyandotte County's Democratic roots remained true in the presidential election, as one of the few Kansas counties to support President Barack Obama. The president earned 67 percent of the county's vote with 33,265 to the 15,273 garnered by Republican Mitt Romney.
Wyandotte County voters also went against the grain in a vote for a constitutional amendment changing the way the state assesses property taxes for boats and other watercraft. While the amendment was supported in the statewide vote, a majority of Wyandotte voters cast their ballots in opposition, with 22,169 "no" votes to 19,946 "yes" votes.
Results won't be official until county commissioners canvass the votes and contested and provisional ballots next week.