Taking a look back:
BSHS

cross-country makes deepest fall run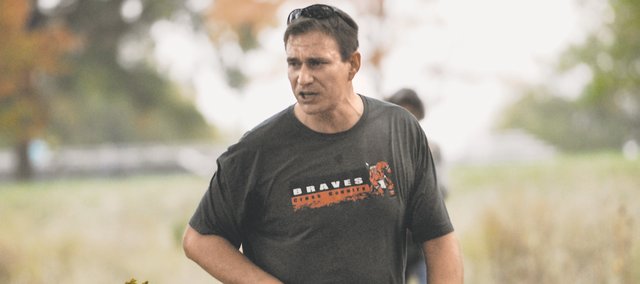 Photo Gallery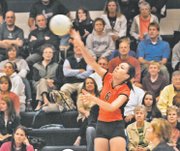 BSHS fall sports in pictures
A look back at some of the fall's highlights caught by our cameras.
With just one state appearance for a Bonner Springs fall sports team, much of the hopes established before August were left unachieved. That's not to say the season was defined by letdown.
With runners returning to state competition for the first time since 2008 and foundations being built at several other programs, a glimpse at the future could be had by season's end.
Cross-country
A third-place finish at the 4A regional championship meet qualified the boys cross-country team for state as senior T.J. Kimbrough-French, junior Austin Schuler and sophomore Joe Casteel led the Braves.
In Wamego, Kimbrough-French competed in his third straight state meet, placing 81st overall with a time of 18:35. Schuler led the Braves in Wamego with a 17:50, 44th-place finish. The meet marked the first time Bonner Springs went to state since advancing four consecutive years from 2005 to 2008. In their return to that stage, the boys placed 11th overall.
Kimbrough-French won his first individual race title with a dual at Ottawa on Aug. 31. But an injury at the Bishop Miege Invitational in early September kept him out of action until October's Kaw Valley League meet, in which Kimbrough-French placed 16th.
In September at the Bonner Springs Invitational, senior Mandy Ballou set a new team record with a 16:44 run to place 35th overall. She finished her Braves career in fitting fashion, besting her record mark with a 16:29, 18th-place finish at the 4A regional meet.
Ballou's best placing came in a 12th-place finish in the Bishop Miege Invitational.
Football
Hope sprung eternal around the Bonner Springs football program early in the season. The varsity squad jumped out to a 3-0 start behind a trio of impressive performances by junior quarterback Jordan Jackson, who looked more than game in taking on an extra workload.
Meanwhile, the junior varsity and freshman teams routed opponents, signaling more success on the program's horizon. But a narrow overtime heartbreaker at Piper on Sept. 28 set in motion a six-game losing streak that left the Braves seeking an identity late in the season as confidence dwindled.
Later in the season, coach Lucas Aslin pointed to the loss, and subsequent blowout defeats to Mill Valley and Basehor-Linwood, as blows to the young team's confidence that proved insurmountable.
The offense began and ended with Jackson, who completed 49 percent of his passes for 1,274 yards, 10 touchdowns and nine interceptions. Jackson also took on more of a burden on the ground, carrying a team-high 135 times for 720 yards and eight touchdowns. Junior Jared Knershield added 396 yards on 90 carries, with three touchdowns. As intended, Jackson spread the ball around through the air, completing 19 or more passes to four players — senior Jonathan Blackwell (23), sophomore Thaddeus Glenn (22), Knershield (21) and senior Mason Roberts (19). Meanwhile, no player had more than two touchdown receptions.
On defense, junior Anthony Kubas came up with two interceptions. Senior Tyler Howell, junior Kyle Dumler, junior Austin Goodin and junior Les Wessel were stalwarts on the offensive line. A group of upperclassmen in senior Dalen Reed and juniors Joseph Arnett, Jack Klingele and Devin Burke stepped up in the season's final weeks when Aslin sought to spell much of his offensive line, which up to that point had played both sides of the ball.
An inability to put points on the board — the Braves finished having scored just 159 total points, third fewest in the Kaw Valley League — proved the difference in a season in which three of the team's six losses came by an average of a little less than six points.
Boys Soccer
The expressions worn by both the Braves and boys soccer coach Mike Moulin early this season painted a grim picture of where the season was heading. It's not just that the Braves limped to a winless start, it's that they literally found themselves hobbled for much of the season's first half.
And while Bonner Springs' first victory didn't come until the opening round of regional play last month — a 1-0 overtime win at Maranatha Christian Academy in Shawnee — the Braves (1-14-3) concluded 2012 looking much more like a team than when it started. Senior Spencer Frank, one of the Braves' most glaring absences because of injury in the first half of the season, finished strong enough to earn first-team All-Region honors by the Northeast Kansas Soccer Coaches Association upon conclusion of the season. Frank also booted the team's game winner against Maranatha.
Girls Tennis
It was a rare down year for Bill Scott's girls team, which finished shy of sending any representatives to the state tournament for the first time in several seasons.
Hannah Hunt and Sammy Ricci-Weller became the Braves' top doubles team, upsetting one of the state's top teams, Blue Valley, in September at the Mill Valley Invitational.
Ricci-Weller returned after a year away from the sport, opting to finish her senior year playing tennis.
Micaela Reed, along with Ricci-Weller, concluded her playing career. Ricci-Weller earned a 9-0 victory against Sumner Academy to open regional play before a second-round loss to Hayden (6-0, 6-0).
Scott has openly expressed hopes that Hunt, Cassie Stock, Alexus Tendick and Kayla McPherson will get involved in offseason summer play so as to be prepared to lead 2013's team.
Volleyball
First-year volleyball coach Jan Madlock knew from the start her team was in for some growing pains. Speaking at the BSHS Invitational, which served as the season opener, Madlock talked about how her young team would need some time to form.
After a slow start, the Braves kicked it into high gear, finishing the season 16-20 and advancing to the semifinal round of the sub-state tournament at Tonganoxie.
The season's end marked the closure of the careers of seniors Cassady Holloway, Jene Williams and Haley Hoffine. Madlock will, however, have a steady group of contributors returning in junior Mariah Seifert; sophomores Shelby Taylor, Amber Cox and Mikaela Bennett and freshmen Julianne Jackson and Alazia Stanley.
The season's highlight came when the Braves won their second straight Wyandotte County Tournament championship in early October. To win the title, the Braves downed Bishop Ward in straight sets, days after dropping a five-set heartbreaker, in which each set was decided by barely three points each on average.
The Braves also concluded the regular season with a five-set victory on the road at Tonganoxie.