Veteran humble about his service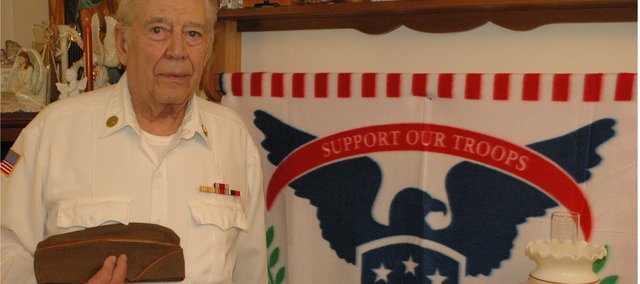 Gerry Daniel doesn't boast about the two years he served in the Army toward the end World War II.
"I done what I was asked to do and was proud to do it," he says. "The ones who deserve honor are the ones who didn't come back."
Yet the Bonner Springs resident continues his service today as a member of Bonner's VFW Post 6401, joined by his wife, Roberta, in the Ladies' Auxiliary.
Born in Missouri and raised mostly in Iowa, Daniel received his draft notice the day of his high school graduation in 1945. He want to California for training and was assigned to the 41st Division, Company B, in the 186th Infantry, a weapons platoon headed for the Phillippines.
"Things were winding down by then," he said. "By that time, they were just mopping up the islands."
After the atomic bombs were dropped on Japan, Daniel learned he would be sent there with the primary duty to disarm the Japanese. Travelling on the U.S.S. Bollinger, he and his troops weathered a typhoon on their way to Japan.
"We lost a lot of ships — troop ships and supply lines," he said. "When you're on a little boat, it's kind of rough."
They landed near Hiroshima in early September, just a few weeks after the bomb was dropped. Daniel took several photos of the few buildings that remained standing.
"It's just mind-boggling," he said of the destruction.
Daniel was stationed in Japan for about a year and a half before he was reassigned to an ordinance company and returned to the United States. During his time in Japan, he was able to travel the country. He has kept the many forms of Japanese currency available in the country at the time, as well as pieces of "invasion currency" he says the Japanese planned to use after invading America, promising to pay the bearer $100.
"On weekends, you could check out a truck and go sightseeing, so I got to see a lot of Japan," he said.
Though it was hard to see the destruction and illness caused by the atomic bombs — Daniel said those who were killed on impact were the lucky ones — he understood that the step was necessary.
After marrying his wife, Roberta, Daniel moved to Bonner Springs in 1957.
He joined the VFW two years ago after he was approached by a member, but he and Roberta have thrown themselves into service of the group. They also have driven nearly 600 miles to transport goods for Vaughn-Trent Community Services.
"It gives Roberta and I something to do, and we don't mind doing it — it's a good cause," he said.