Senior's photo gallery captures 'The Character of Bonner'
One high school senior is using his senior project to capture on film the indefinable qualities that give Bonner Springs its identity.
"I really just wanted the personality of Bonner Springs — I wanted to display the personality that lives in the city that kind of goes unspoken, but it's there," Chad Uhl said of his photos.
Photo Gallery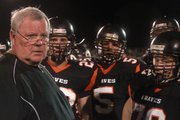 The Character of Bonner Springs
Chad Uhl, Bonner Springs High School senior, is displaying a collection of his photos at the Bonner Springs City Library in which he tried to capture the personality of Bonner Springs. The gallery will be on display at the library until the end of November.
Uhl displayed the photos he took for his senior project in a gallery event called "The Character of Bonner Springs" Wednesday at the Bonner Springs City Library, where the photos will remain on display until the end of the month. After studying photography through his high school career, Uhl hopes members of the community are able to connect with his images.
Uhl began his study of photography his freshman year during the photography unit in his Introduction to Journalism class, and he eventually got his own camera. While his studies in school have focused largely on journalistic photography, he has taken time outside of school to study more artistic photography techniques.
When teachers advised that students should pick a senior project based on something that has inspired them throughout high school, Uhl said photography was the first thing that came to mind. Combining that with the journalistic perspective of telling a story, he set out to define Bonner through his images.
Some of the photos he selected for the gallery came from the last three years of journalism classes, but Uhl also spent the last few months trying to get some other community images and use different techniques. For example, he experimented with the out-of-focus bokeh technique to capture the lights of the Bonner Blast fireworks display.
"It really kind of opened door for me to play with photography, and the idea that I wasn't bound to capture the journalistic story; I had more freedom with what I took," he said.
Uhl also set out to find some iconic images of the community, like items from Miller's Pharmacy and, of course, the Union Pacific Railway trains that travel through the city.
"I thought of all these different businesses and local things that happen," Uhl said. "I just wanted to portray all these little things that I think make Bonner a very ideal city."
For example, the community's altruism is captured with a photo of a student at a blood drive. Uhl said one of his favorite photos in the collection is of Lew Kasselman, former high school football coach.
"Even though he's not the coach anymore, he still has a big role in community and he plays a really big part," Uhl said.
Uhl said since the photos have been on display in the library, he has had a few offers to purchase the photos, which he did not expect. If he does decide to sell some photos, Uhl said he would give the proceeds to a charity.