Long road back nears end: Senior eager to lead young Braves squad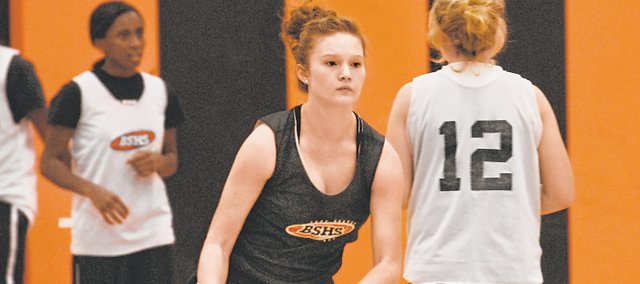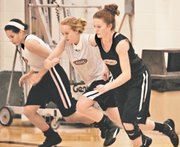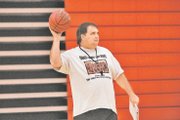 In April, the weight of Bonner Springs senior Anna Deegan came down on her knee, her anterior cruciate ligament tearing with a sickening pop, ending her spring soccer season and paving a long path back to the basketball court for her final season.
Though her being cleared to practice six months after the injury is on the quick end of timetables for ACL tear recoveries, Deegan still must wait until the first week of December to learn whether she is cleared to play.
Each recent visit to the doctor has cleared a hurdle, pushing Deegan ever so closer to being ready to lead the Braves in a season in which they will try to follow up on last year's fourth-place state tournament team, the best in program history.
But while she has most recently been cleared to do all but play in a game, Deegan will have to sit for a few more excruciating weeks and watch her team open the season at the Eudora Tournament. The earliest Deegan could return is the Dec. 11 game at Basehor-Linwood.
"You have to be motivated," Deegan said. "It's hard not to get down, but you can't get down and think it's all not worth it. It's worth it for me because I want to get back. You have to try everything and give your all."
Deegan, who led the Braves in scoring last season with 14.4 points per game, has had plenty of time to adjust to having her role relegated to being off the court early on. That's not to say the summer was without its valleys. For one, she said, Deegan missed out on a summer of AAU ball, which she has relied on to improve her game each offseason. And she couldn't bring herself to attend parts of some of the Braves' summer tournaments, the emotional pain of being off the court every bit as heavy as the physical pain that hobbled her.
"She is driven by her competitiveness," BSHS coach Clay Oakes said. "She's hates being on the sideline. She had a mentality that she would do whatever it takes and work twice as long to get back as early as possible."
With a return finally within view, Deegan and Oakes can begin to think about what this team can do to make a run in the always-competitive Kaw Valley League.
Four key seniors — Yessenia Hernandez, Erin Marx, Erica Wilson and Emily Wilson — are gone, leaving Deegan and senior Haley Hoffine (5 points, 4.8 rebounds per game) to lead a young but talented lineup.
"We'll have a lot more team speed this year," Oakes said. "We'll be a totally different type of team. Some of the things we do will be completely different."
Junior Kennedy Bizzell is a player Oakes said took advantage of the summer to boost her game. Oakes is also looking forward to a breakout season by his sophomore class, led by Kayleigh Taylor and McKayla Bennett. As a freshman, Taylor began to see some time on varsity as the season wore on, and is a player Oakes will count on to help fill some of the void in rebounding left by Marx and the Wilsons — she won't be alone, however, as Deegan and Hoffine ranked second and third in that category, respectively.
Oakes called Bennett one of the fastest post players he's seen in terms of spanning both ends of the court.
"Whenever you have your five position as the first one down the court sometimes," Oakes said, "you know you have a little bit of team speed."
Sophomore Morgan Lawrence, a Basehor-Linwood transfer, is another player Oakes said he is counting on to lend some size. And freshman Julianne Jackson will see some varsity minutes this season, too.
"She's going to step in and be a huge part of what we do this year," Oakes said.
Oakes said the question of how well the Braves defend bigger players inside the paint remains to be seen. And while BSHS will field a much younger lineup than last season's squad, Oakes said he thought the Braves went a long way toward addressing their inexperience with a strong summer tournament showing.
Fitting then that they'll begin the season without Deegan at the Eudora Tournament from Dec. 3-6. They'll be looking for more than just a strong start to the season that week. BSHS will also be holding its breath as it awaits Deegan's final hurdle to be cleared.