Students help Feed His Lambs with special Thanksgiving meals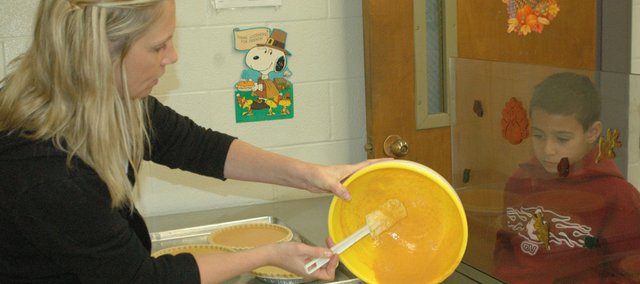 A local organization and some grade school students are making sure that more area families get to celebrate a traditional Thanksgiving.
With the help of students at Edwardsville Elementary School, volunteers with Feed His Lambs rearranged their weekly meal deliveries for area families in need this week so that families will get their meals today instead of Friday, just in time for Thanksgiving. Baskets organized by the students contain every Thanksgiving meal necessity; the students even took time Monday and Tuesday to make pumpkin pies for the meals.
Photo Gallery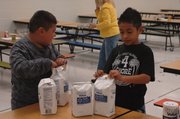 Perfecting Pie Preparation
Edwardsville Elementary School students helped make pumpkin pies Monday to be delivered to families in the Feed His Lambs program on Wednesday. The students conducted a food drive last week to gather the ingredients for the pies and other Thanksgiving items, as well as raised money so families could purchase turkeys.
The Thanksgiving meals were arranged thanks to Kristen Moulin, who recently joined the board of directors for Feed His Lambs. As a counselor at Edwardsville Elementary, she helps the organization identify families that would most benefit from the weekly meals the organization supplies, and she thought Feed His Lambs would be a worthy recipient of the Thanksgiving food baskets the school has organized in the past.
"Every month our school tries to do a community service project, and we're trying to make it more locally-based, just trying to help more people within our community," she said.
The school had a food drive last week to collect all of the ingredients for pumpkin pie, green bean casserole, stuffing, corn, cranberries and sweet potatoes. Each grade level had a certain assignment to gather food for 60 baskets, and on Monday, the third-grade students helped make pumpkin pies.
Students also brought in $2 for the right to wear pajamas to school one day last week, and the funds raised from that day were used for grocery store gift cards for the families to purchase turkeys.
Patti Ward, who leads Feed His Lambs, said last year, the organization just started its mission of delivering meals to families in need in USD 204 a few weeks before Thanksgiving, so it wasn't able to organize a special meal. Instead, families were directed to the annual Community Thanksgiving Dinner at the First Christian Church.
She said volunteers were happy to be able to deliver families a meal before Thanksgiving rather than after.
"Our volunteers really have taken this on as their mission, and they go above and beyond what they actually need to do," Ward said. "They've really gotten to know the families, a lot of them, and formed a relationship.
"They're the ones that actually see their faces when the kids get apples, or when the kids get something they're excited about, and it's very rewarding."
Feed His Lambs continues to work with a limit of 60 meals a week; because families of six or more get two meals, the organization currently serves 44 families, who generally remain anonymous to the organizers.
"The people in the program – they are hitting a rough patch. They have not been in a poverty situation forever, but they have hit hard times due to job loss or medical bills," Ward said. "They need some help just to get them over this rough spot."
But Feed His Lambs continues to grow its awareness. It had a successful fundraiser with its pie contest during Tiblow Days, and a second fundraiser is approaching with its Chili Dinner during Bonner Springs' Candy Cane Christmas event, 5-8 p.m. Dec. 3.
The dinner will be served 5-8 p.m. at the Sunflower Room in the Community Center. Those who attend can enjoy a bowl for a suggested donation of $3, or a pre-ordered quart of chili can be purchased for $10.
The support of the community continues to bolster Feed His Lambs after its inaugural year, Ward said.
"We say it all the time — we absolutely could not do this if it wasn't for the generosity and donations of this community. That is absolutely why this is working."