Braves wrestling team enters season ranked second in Class 4A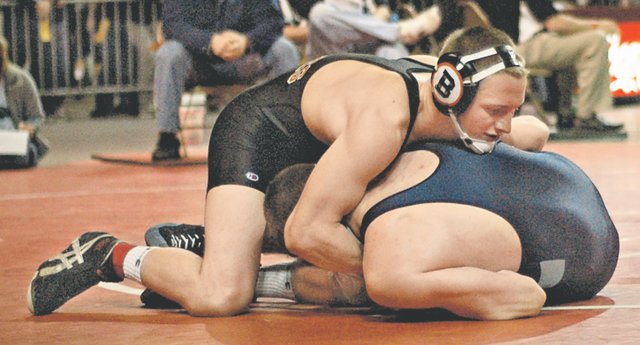 Bonner Springs wrestling coach Brandon Jobe won't likely soon forget the bittersweet feeling dealt by last season's state tournament — of celebrating five state medalists while finishing just 6.5 points away from a state team title.
Thing is, few in Kansas Class 4A wrestling have forgotten either.
The Braves enter the season, which begins at 5:30 p.m. Thursday against Basehor-Linwood and Piper, ranked second overall in 4A in the Kansas Wrestling Coaches Association's preseason poll — behind only Colby, which edged BSHS by 2.5 points to place second in Salina in March. Defending champion Andale comes in just behind BSHS in the season's first poll.
"We just have to continue improving and capitalize on last year's third-place finish," senior Aaron Puckett said.
Puckett is one of 12 returning seniors and one of two Braves ranked first in their weight classes to start the new season. Puckett, ranked first at 160 pounds, will look to make it four consecutive state medals this season, with only a first-place finish eluding him in a thus far decorated career.
Puckett is joined by 152-pound senior Jonathan Blackwell in being ranked first overall in their weight class at 4A. Blackwell finished second at 145 pounds in 2012. He also placed second at 130 pounds as a freshman, and won a state title at 135 in 2011. Blackwell also enters the season as the sixth-ranked pound-for-pound wrestler in the state.
Junior Josiah Seaton enters the season ranked second at 106 pounds, and senior Justus Seaton fourth at 113 pounds.
As the first wrestler to hit the mat during dual meets, Josiah Seaton has had the distinction of determining to whom the early momentum would swing, something wrestlers like Blackwell said can make a difference.
"It helps set the tone if Josiah starts with a win," Blackwell said.
No pressure, right?
"It's kind of nerve-wracking in a way," Josiah Seaton said. "It's fine with me now. I'm used to it."
Helping matters has been having ample experience being the opening act at offseason tournaments like the Fargo (N.D.) Greco-Roman Tournament, at which Josiah Seaton has been named an All-American for two straight summers.
In spring and summer alone, Braves wrestlers competed in 16 competitions, traveling to Colorado, Iowa, Missouri, Florida, Oklahoma and North Dakota — in addition to a host of state competitions.
It's a goal of Jobe's each season: to expose his wrestlers to as wide a variety of competition not seen by many of the teams they may encounter in state competition.
So far, it seems to be working: the last time BSHS didn't earn at least an individual medal was 1997.
Other top returners include sophomore D.J. Ballard, who picked up 24 varsity victories as a freshman last season and is expected to wrestle at 113 pounds this year. Fellow sophomore Bryan Lanning returns after winning 21 matches on varsity at 145.
Senior Coltin Bulkley returns after missing the 2011-12 season to injury and will wrestle at 138 pounds.
Senior Jared Clements placed third at state last year and was a state qualifier as a sophomore. He is expected to compete at either 170 or 182 pounds.
Seniors Patrick Ballard (172/180) and Shawn Stirling (285) will have a chance to advance to state after finishing just one match away from qualifying last season.
Junior Jonathan Carter returns to compete at 220 pounds, and Jobe counts Collin Wallar and Kolbe Seaton as the team's top newcomers.
The annual Dick Burns Classic will be Jan. 5 inside the Bonner Springs PEC Gym and this season's Kaw Valley League tournament will be Feb. 9 at Lansing High.
The two-day regional tournament will be hosted by Tonganoxie on Feb. 15-16, and will also include Atchison, Baldwin, Basehor-Linwood, Santa Fe Trail, De Soto, Eudora, Bishop Ward, Piper, Sumner Academy, Jefferson West, Ottawa, Perry-Lecompton and Spring Hill.