Students train K-9 companions for disabled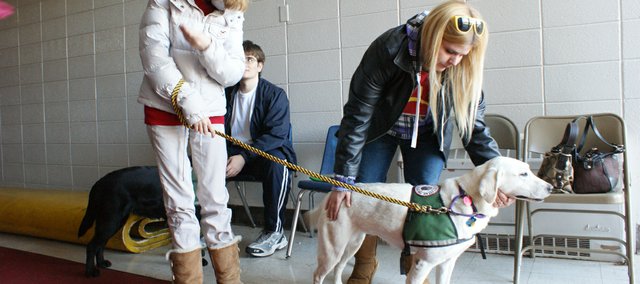 How to help
Although START Club is only offered through Horizon Academy, Shearer plans to relaunch her volunteer program at the kennel in Tonganoxie in 2013. Shearer will use volunteers to train, groom and play with the dogs. For more information about volunteering or donating to Paws For Freedom, email info@pawsforfreedom.org, visit pawsforfreedom.org or find it on Facebook.
As their teachers try to read in the library, the students are restless, distracted by passersby and a bevy of new, strange smells.
The teachers, students from Horizon Academy in Roeland Park, are unfailingly patient and eventually get their students to relax on the floor, tails wagging.
Horizon is a private school for students with learning disabilities, and with the partnership of a Leavenworth County-based nonprofit, students have been training service dogs for the last eight years.
Paws For Freedom
Lea Ann Shearer started Paws For Freedom in 2005 and runs the organization out of her home between Tonganoxie and Basehor. With more than 20 years of experience training dogs, she has long seen the benefit of training service dogs using populations of students with learning disabilities, emotional disorders or other difficulties, she said.
"I measure our success not only through the dogs that graduate, but the kids that reapply every year," Shearer said.
Horizon students grade seven through 12 are eligible to join Student Trainer And Retriever Teams, or START Club, and with only eight dogs in training, positions are limited, Shearer said.
The dogs start training once they're 8 weeks old and graduate at about age 2. Many students get to see a dog they trained graduate and go to work for a physically disabled person in need. The dogs are trained to open and close doors, turn on lights, retrieve objects and much more for people who use a wheelchair.
Although the organization's main objective is to train service dogs, the partnership with Horizon and its student trainers is the cornerstone of its mission.
Shearer has a second trainer, Hannah Ozkal of Bonner Springs, and between them they could train four to six dogs at a time. With the help of eight student trainers, they are able to train eight to 10 dogs at once.
The national average wait time to receive a service dog is three to five years. With Paws For Freedom, that's reduced to six months to a year.
Not only does the partnership improve efficiency, it makes a big difference in the lives of the student trainers.
Students as teachers
The destination Tuesday was the Corinth Library in Prairie Village. The lesson was to practice the elevator and stairs, as well as waiting patiently as trainers sat and read a book.
The students train with the dogs, four puppies and four adults, five days a week after school. Tuesdays and Thursdays are dedicated to public outings with the dogs ranging from quiet libraries to bustling big-box stores.
At the library Tuesday, students were training the adult dogs that are further along in training and better house-broken. They're on track to graduate this year, but they've still got a lot to learn until they reach a leap in maturation that comes between 18 months and two years, Shearer said.
Sophomore trainer Madison Peavey is in her second year in the club and worked with Bella on Tuesday.
"You have to be really patient," she said.
Trainer Jacob Steiniger, a senior, agreed with Peavey, adding that learning to be patient and persistent is especially important with the puppies. As he speaks, he peers around the corner of a bookshelf, keeping an eye on two children who look like they might like to pet his dog, Gracie.
Teaching people proper service dog etiquette is also a part of training their dogs for proper service behavior. The service capes the dogs wear help identify them, but small children don't always know the difference. Student trainers always have to keep a keen eye on what their dog is doing, as well as with whom it's interacting.
"All dogs can be quite sneaky," Shearer said, adding that the next challenge will be to take the dogs into an eating establishment. Trainers will have to order food and eat while their dog waits patiently.
The patience has to be taught, which can be frustrating, Shearer said.
"When their capes go on, they know it's time to work," she said. Because the dogs know they're on the job, they're always waiting for their next task. So when it's time to sit and wait while their owner is busy, they have to be taught to relax, Shearer said.
Lessons learned
Teaching the dogs patience goes hand in hand with teaching students patience, persistence and assertiveness.
"Dogs are very intuitive, but they're not mind-readers," Shearer said. "You have to talk to them."
Throughout the year, Shearer sees her trainers grow and change along with the dogs, she said, and often their self-esteem improves. The dog has to see its trainer and owner as the pack leader, so students learn to step up, communicate well and assert what they want.
"There's a big difference in what a dog will do for you if they see you as a pack leader versus a pack member," Shearer said.
When Shearer worked as a trainer at an organization in Ohio, she oversaw a program similar to START Club with emotionally disturbed students. As soon as students learned they had to attend school, behave and finish their work in order to work with the dogs, GPA and attendance rose at the school, Shearer said.
"I wanted to replicate that here," she said.
She also attributes the organization's success to Horizon's willingness to participate. Some people don't see the connection between using students as trainers, Shearer said, but the benefits it provides the students, as well as the future owners of service dogs, are a no-brainer.
"They are able to see the result of the work when their dogs graduate and go to someone who needs them," she said.
Participating in the club cultivates a positive attitude, but it also helps students develop job skills, Shearer said. Students have to be there every day because the dog depends on them. And even though some days are difficult and the dogs test them, they have to stick it out.
"There are tough days," Shearer said, "but I think it gives them greater appreciation for their teachers and parents when they're having days like that."