Braves sweep opening wrestling meet, Cordts earns first win as
BLHS

coach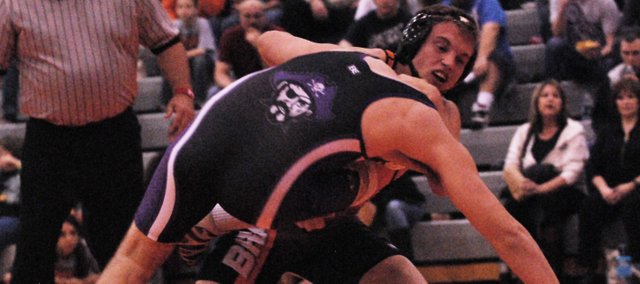 Photo Gallery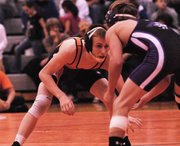 Bonner Springs wrestlers open season
The No. 2-ranked Braves opened their 2012-13 season with a pair of duals victories against Basehor-Linwood and Piper on Thursday.
The Basehor-Linwood and Bonner Springs wrestling teams began their seasons in familiar company last week in a duals meet at BSHS that also included Piper.
For one, BSHS coach Brandon Jobe is a Piper grad and good friends with Pirates coach Zach Davies. Also, the Seaton family was well represented on both the Braves' and Bobcats' rosters — and on the benches with BLHS assistant coach Ed Seaton and BSHS assistant coach Jerry Seaton.
"I even wrestled a Seaton back when I was in high school," new BLHS wrestling coach Tyler Cordts said, referring to his career at Santa Fe Trail and wrestling against BLHS alum Ian Seaton.
On Thursday, Cordts earned his first victory with a 48-30 opening dual win against Piper.
"Just to come out and get that first win under my belt feels great," Cordts said. "It's a big step."
BLHS senior Sammy Seaton earned a pair of victories at 126 pounds, and Seagar Smith also scored a pair of pins, wrestling at 285 pounds. Twins Justin Summers (132 pounds) and Josh Summers (145) also went unbeaten.
BSHS swept the event, starting with a dominant 69-3 victory against Piper and later a 46-29 victory against BLHS not without its share of drama.
Entering the season ranked second in the state at Class 4A, the Braves came out looking the part against Piper, earning nine of their 12 victories by pin. The Braves' four ranked wrestlers — Josiah Seaton, Justus Seaton, Jonathan Blackwell and Aaron Puckett — who were also selected team leaders this season by Jobe, went unblemished Thursday. Against the Bobcats, senior Jonathan Blackwell and Aaron Puckett swung the momentum back into BSHS' favor with back-to-back wins after the Bobcats had cut the Braves' lead to 24-17.
BLHS had previously rallied from down 0-15 to tie the meet at 18-18 on the strength of a pair of Summers victories. Justin Summers defeated Alex Frank, 13-5, and Josh Summers out-pointed Bryan Lanning, 8-7, in a thriller that went down to the final seconds.
Jobe is careful to put too much stock in rankings, adding that he has told his team that such distinctions are simply the opinion of a select few. Still, Jobe said, he is looking forward to seeing how far the first senior class of players he has coached their entire careers can make it this year.
"It's a special group for me," Jobe said. "I really got to know them, they're really awesome kids. They've treated me well and worked hard for me. I think it's paid off where we're at now."
Having had just a dozen practices ahead of Thursday's opener, no coach was likely to be content with the shape of his team.
"What I want to see from these guys — I know they're out of shape — I want to see some heart," Jobe said. "Everybody's tired this time of year. Those close matches in the third period, I want to see what they're made of."
The first such glimpse came with BSHS sophomore D.J. Ballard's victory against Piper senior Ethan Bach, a wrestler the Braves had seen many times before Thursday, Jobe said.
"D.J.'s always a gamer," Jobe said. "He's ready to scrap at any time. I know what he's made of."
For several among BLHS' lineup, Thursday provided their first night of varsity experience.
Paul Petterson made his debut at 182 as did Dominic Foster at 220. Cordts said he was also impressed with Steven Struzzo, a junior who wrestled up a weight class and came up with a pin against Piper's Lonnie Penney at 170 pounds.
"I think that was a huge momentum swing that we needed," Cordts said.
The Bobcats followed Thursday's meet with a trip to a duals tournament in Spring Hill. After an 0-2 start on Friday, Cordts said McCleary stepped up and rallied the Bobcats to three-straight team victories. Morris went 4-1 on the day, his only loss coming in the final dual and one in which he wrestled at 113 pounds instead of his usual 106. Cordts called one of his victories, a triple-overtime triumph, the match of the day.
"It was a great two days for the team," Cordts said. "And we look forward to this week off to really get after it in practice and work on some things we saw and be ready to go on Saturday for our next tournament."
BLHS returns to competition on Saturday at Shawnee Mission Northwest's Cougar Invitational wrestling tournament, scheduled to begin at 9 a.m. with championship finals taking place at approximately 5:45 p.m.
Meanwhile, BSHS competed in the Riley County Duals Tournament on Friday, placing second overall. Blackwell and Puckett tied in voting for the tournament's outstanding wrestler award. At the tournament, Puckett edged the No. 4-ranked wrestler in Class 4A by a score of 9-2. At the end of one week, Justus Seaton, Ballard, Blackwell and Puckett each had 7-0 records and Josiah Seaton finished with a 6-0 mark.
The Braves return to competition with a pair of duals against Sumner Academy and Harmon at 5:30 p.m. on Wednesday at Sumner.