Candidates discuss issues in forum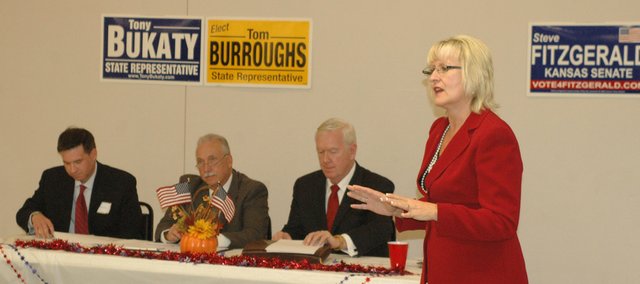 State legislative candidates in two local races last week shared their views in a candidate forum organized by the Bonner Springs-Edwardsville Chamber of Commerce.
Candidates included incumbent Democrats Tom Burroughs of the 33rd legislative district and Kelly Kultala of the 5th senate district, and their opponents, Republicans Tony Bukaty and Steven Fitzgerald, respectively. The candidates answered six questions posed by a chamber panel, covering topics such as education funding, economic development and the future of the Kansas Highway 7 corridor.
The question that produced possibly the most varied response was related to education. The candidates were asked if they thought funding for education should be maintained, reduced or increased.
Bukaty said he definitely didn't think education funding should be decreased, but that accountability was needed in education spending.
Burroughs and Kultala advocated increases in funding. Burroughs said children's opportunity to get a quality education was being put in great jeopardy with recent cuts and noted that education was a big component of economic viability.
Kultala said the education system has taken seven drastic cuts, and as the economy starts to rebound, education funding should be restored.
Fitzgerald did not specifically say that funding should be decreased or maintained, but he did say that money was not the answer. He said since the 1970s, the number of teachers and administrators had increased while the number of students had remained almost steady, but he said test scores had not seen a large enough increase.
Each candidate reviewed their top issues in their closing statements.
Bukaty said the state faces substantial challenges, but he remains optimistic and thinks the problems can be addressed — it is just a matter of making funding priorities. He said he also supports bipartisanship in the legislature, a solution-oriented approach, and growing the economy.
"I'm willing to listen to ideas, if you have any ideas to brought to the table … I think Kansas has a lot of work to do if we are going to dig ourselves out of the situation the recession has left the state in," he said.
Burroughs said he believes Kansans deserve a responsive, efficient and transparent government. He said constituents needed someone who had knowledge of the issues and who could work in a bipartisan manner.
"I believe that cuts are necessary, but some will ask, to what extent? What harm can they do to our seniors, to our children, to our communities and to our state as a whole?" he said. "Good policy knows no partisanship. It takes a strong, educated approach to make sure we're moving in a Kansas direction, not a one-party direction."
Fitzgerald said while the state has had job growth in the public sector, it truly needed job growth in the private sector. He said a better tax structure also was necessary to promote economic growth.
"If I sound like I only have one note on my board, it's because I think it's the most important note," he said. "We need job growth and we need growth in the economy. If we can do that, we can take care of anything else."
Kultala stated she has worked to support public education and noted a handful of specific instances, such as attracting the Cerner office complex and Sporting Kansas City, in which she has been able to create jobs in the area. She said she also has a proven history of working with moderate Republicans.
"I believe when we all work together, we work better than when we work separately," she said.