Food: Offal gets gourmet treatment at trendy eateries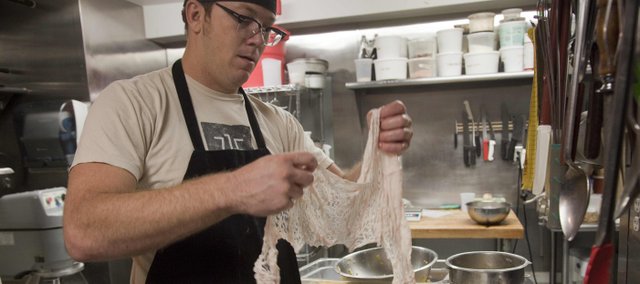 In the basement prep kitchen at Lawrence's 715 restaurant, Michael Beard is carefully wrapping a sticky-looking web of white tissue around a palm-size lump of meat.
He pins the wrapping closed with a toothpick and a laurel leaf, slides his creation in the oven, then plates the finished product atop a bed of sweet caramelized onions. Add a glass of Sangiovese and — voila! — caul fat and pork liver have just become a gourmet treat.
Animal brains, glands, tails, intestines, feet and other organs are nothing new at many ethnic eateries. But the oft-spurned meat parts known as offal have made their way into some of the area's hippest mainstream restaurants, where chefs say foodies and more timid diners alike seem to be nibbling.
Beard, executive chef and owner at 715, 715 Mass., plans to serve his fegalo appetizer — an Italian-style liver sausage encased in fatty membrane surrounding the heart and other organs — as a weekend special this fall.
In addition to the fried chicken livers on 715's regular dinner menu, diners might also have the option of stewed beef, pork or lamb heart paprikash, or seared testicles with aioli and pickled peppers.
"I'm really surprised how fast we sell the testicles," Beard said. "We sell them out in a weekend — it's crazy."
A few blocks away at Pachamamas, 800 N.H., chef Ken Baker's fall menu includes Rice Crisped Sweetbreads — veal glands, such as the pancreas and thalamus — with cauliflower brandade and candied apple-chili pickles.
Offal dishes have popped up on seasonal menus at Pachamamas, a long-standing Lawrence restaurant, for years, general manager Richard Garcia said. For the most part, Garcia said, his customers don't seem turned-off by items such as trotters and foie gras.
"Maybe it's proliferation from television food programs, or maybe people are more curious these days about other parts of the animal," Garcia said. "I think nose-to-tail eating — in a really good way — is becoming kind of hip."
On the menu
At the Rieger Hotel Grill and Exchange, 1924 Main St. in Kansas City, Mo., owner and chef Howard Hanna said one of his most popular dishes is a "play on French onion soup," topped with fried pig skin instead of a crouton.
The Rieger's fall menu, rolling out this month, will feature biscuits with rabbit-heart, -liver and -kidney gravy as well as pork cheek pie in a savory crust.
Hanna also plans to serve an "old-school" dish called "Butcher's Treat" — his version, at least, calls for poached veal brains, chopped and dusted with flour, then sauteed until crispy and brown and served with scrambled eggs over toast.
The dish is a throwback to one served in early England, France and even the United States, Hanna said. Small restaurants made it for butchers who needed a hardy meal and a beer when their shifts ended at dawn.
"It was a cut that was tough to sell but really delicious," Hanna said of the brains. "So it was something that the butchers kept for themselves."
Port Fonda chef and owner Patrick Ryan said Tacos de Lengua (Spanish for tongue) is among best-selling dishes at his restaurant, 4141 Pennsylvania Ave. in Kansas City, Mo. The modern Mexican hot spot also serves menudo, a spicy soup with beef tripe, and moronga, a pig's blood sausage.
"Some people are just a little weirded out by it," Ryan said of the sausage, a traditional Latin American item he puts his own spin on by mixing with cheese and stuffing into poblano peppers. But apparently not everyone, he said, because "every single weekend we sell out."
Tongue tacos, menudo and other offal dishes aren't unusual at mom-and-pop Mexican restaurants, though Ryan said Port Fonda aims to make them approachable for an "American audience."
"A lot of people that are really into food love the fact that they serve that stuff," he said. "We just kind of wanted to do it and make it a little more mainstream."
Prepping and pairing
Expert preparation can help take the edge off meat cuts infamous for being tough, gamey or just plain strange.
"You can't just serve something and have it on your menu because it sounds cool," said Beard, of 715. "You want people to actually try it and like it, and want to try it again."
Beard butchers his own pigs, goats and lambs and knows the flavor nuances of each animal's liver — pork is fuller-flavored, for example, while lamb is more delicate.
Over-cooking liver concentrates the flavors, which isn't necessarily good in an already pungent meat, Beard said. Cooking organ meat with bold spices or pairing it with sweetness such as caramelized onions, port sauce or a fruit-forward Italian wine also helps take the edge off.
At the Rieger, preparing sweetbreads is a three-day process of brining, poaching, peeling, pressing to extract excess blood, flouring, sauteeing and "basting like crazy," Hanna said.
Port Fonda brines beef tongue five days to reach the melt-in-your-mouth pot roast consistency of its Tacos de Lengua, Ryan said. Spicy salsa and fresh onion, cilantro and lime juice — and maybe a cold, spicy michelada to drink — complete the package.
Far-flung influences
Beard, a southern Oklahoma native, remembers his grandmother buying him chicken gizzards for after-school treats. His offal fandom — and comfort cooking it — grew while attending culinary school in Italy.
Hanna is a Manhattan native whose Samoan mother followed tradition by playing host to a pig roast on his 1st birthday; the adults enjoy the pig and toss an ear to the teething toddler.
"I had my first pig ear at age 1, and I pretty much never looked back," he said.
Hanna cooked in Lawrence briefly before heading to culinary school in New York City and on to cooking stints in France and Italy. He came to appreciate the waste-not approach many other cultures embrace when it comes to meat.
At the Rieger, Hanna said his offal customers seem to be those who tried similar dishes while traveling abroad, a few whose friends convinced them to try something new, and generations whose parents or grandparents used to cook the "forgotten" cuts.
"It's edgy and cool, and that attracts a certain clientele," Hanna said. "But it's also a tradition that I think resonates with older people."
Hanna would like to see the trend catch on with larger or chain restaurants — but not treated as freakish.
"I kind of hate it when it's approached as ... shock-value kind of stuff," Hanna said. "People are seeing this stuff as really legitimate, traditional foods that are coming back."
— Lawrence Journal-World features reporter Sara Shepherd can be reached at 785-832-7187. Follow her at Twitter.com/KCSSara.