Local candidate's comments on Democrats, Catholics covered in national media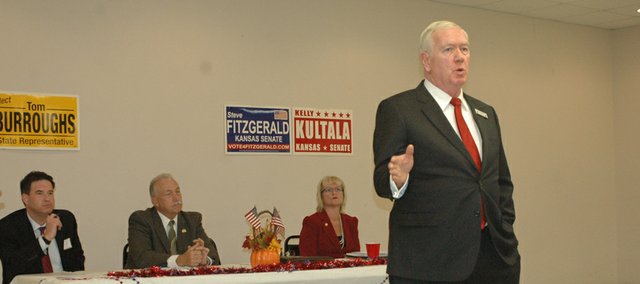 Comments made by a local state Senate candidate earlier this month caught the attention of the national media.
The Huffington Post on Oct. 15 ran an article discussing comments made by Steve Fitzgerald, Republican candidate for the 5th District Senate seat, earlier this month regarding the conflict he sees between the beliefs of Catholics and the Democratic Party's national platform, especially regarding the party's support of gay marriage. Fitzgerald attributes the story to a slow news day; his opponent, incumbent Democrat Kelly Kultala, said it was newsworthy because voters have a right to know his views.
The Huffington Post reported on Fitzgerald's comments to about 25 members of the Polish American Club Oct. 8 and on how some took his comments to mean that Catholics should not be Democrats, leading a handful of other media outlets to cover the issue, as well, including Fitzgerald's appearance on Alan Colmes' Fox News radio show Thursday night.
Fitzgerald on Friday reiterated to The Chieftain that his point was that Catholic Democrats either should push the party to change its stance on issues like gay marriage, embryonic stem cell research and abortion, or leave the party.
"The country needs two good political parties, and I was hoping that the Democrat party could be one of those parties," he said. "They've got a problem and they need to fix it."
Fitzgerald said four years ago, the first time he ran against Kultala, he made similar comments to the same group related to the Democratic Party's stance on abortion. He said he thought it was an appropriate topic to cover given the fact that most of the people in the room were both Catholic and Democrats, and that several people came up to him following the meeting to tell him they agreed with him.
"I wasn't trying to tell anybody anything except for the people in the room," he said. "How this got to be of national interest, I don't know. I'm certainly not the first person to say this; all of the Catholic bishops have said it."
But Kultala, who is Catholic, said she had heard Fitzgerald brought up the same topic a day after the club meeting at a credit union candidate reception, so, as a stance he feels strongly about, it was newsworthy.
"I think the voters need to know exactly who the candidates are, and he must have felt it was important enough to bring up at a Democratic club, and to also bring it up the next night," she said. "He must have felt pretty strongly about it to say that rather than to talk about taxes and school finance and other topics people have discussed in the election."
Kultala said she didn't take away a message of changing the Democratic Party from Fitzgerald's comments.
"I didn't think the comments were so much about gay marriage as they were whether or not you're worthy enough to be a Christian if you're a Democrat," she said.
"He thinks that everyone should think like him, I guess," she later added. "And Democrats have been the big tent party; we have diverse thoughts and beliefs in our party, and that's OK."
Both candidates said they were unclear how the story was reported to The Huffington Post. Fitzgerald said he believes someone with Kultala's campaign or the Kansas Democratic Party contacted the media; Kultala said it might have been anyone with the club or one of the other candidates who attended the meeting.
The last public legislative forum Fitzgerald and Kultala are both set to participate in is at 7 p.m. Oct. 26 at the Riverfront Community Center in Leavenworth.