Food: Sweet 'n' salty — Nutella, pretzels and white chocolate together at last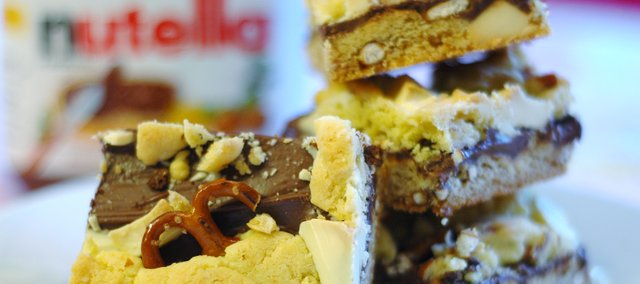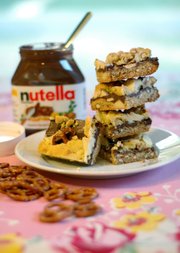 I've undoubtedly eaten more than my fair share of Nutella on its own — on ice cream, toast, crepes, fruit, by the spoonful and (I confess) straight off a knife — but never baked with it.
On the one hand, I've always thought, the creamy chocolate hazelnut spread is a little expensive and so decadent, why waste it by mixing it with other things? On the other hand, I mulled as I recently dipped crackers in it for the first time, wouldn't some kind of salty-sweet dessert with Nutella and pretzels be good?
Envisioning gloops of Nutella and chunks of pretzels just needing some kind of dough, cake or crust to hold them together, I pulled up a handful of Nutella recipes online but found none like what I had in mind. So I came up with my own, based on a similar recipe I had for caramel cookie bars.
These cookie bars have mini pretzels and white chocolate chunks in the cookie dough. Not wanting to dilute the Nutella by stirring it into anything, or risk it being smeared away from the top or bottom of a cookie, it's scooped straight out of the jar and sandwiched safely between layers of dough.
This probably goes without saying, but these are extra good with a glass of milk.
Also, thanks to Nutella's increasing popularity, it's easier to find in grocery stores than it used to be, and a number of producers make slightly less expensive off-brands as well.
PRETZEL-NUTELLA BARS WITH WHITE CHOCOLATE CHUNKS
Start to finish: 45 minutes
Servings: 18 bars
1 box yellow cake mix
1/2 cup canola oil
2 eggs
2 1/2 cups mini pretzels, broken
6 ounces white baking chocolate, coarsely chopped
1 jar (13 ounces) Nutella
Preheat the oven to 350F. In a medium bowl, stir together cake mix, oil and eggs. Mix in pretzels and white chocolate chunks. In a greased 9-by-13-inch pan, press three-fourths of the dough into the bottom. Bake 10 minutes. Cool 5 minutes.
Spread Nutella over top of partially cooked dough. Drop remaining dough over the top. Bake 20 minutes more, or until top is lightly browned. Cool and use a sharp knife to cut into bars.
— Lawrence Journal-World food and features reporter Sara Shepherd can be reached at 785-832-7187.