Raceway Ministries is unique outlet for service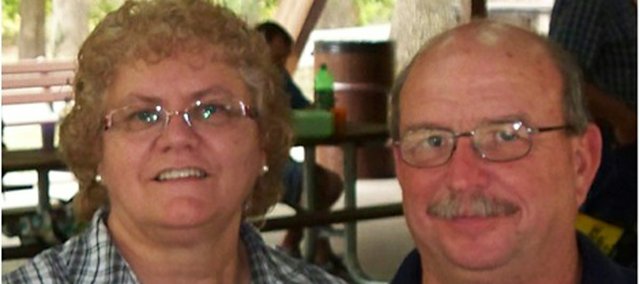 As Sheryl Turner waited for another bus load of race fans at the turn one tram stop at Kansas Speedway, an old man approached her.
From the look of his scars, he had been badly burned earlier in life.
Sheryl meets thousands of people when she volunteers at race weekends, but there are always ones she'll never forget.
As she waited with the man for his shuttle to his seat, he told her he was there to watch his grandson race, just like he used to before his crash.
Although Sheryl and her husband, Tony Turner, have been at every NASCAR race in Kansas City for the last few years, they still couldn't tell you much about racing.
They're busy entertaining cranky children, shuttling people with disabilities and cooking for other volunteers on behalf of Raceway Ministries.
The raceway has employees to assist with many aspects of race weekends, but there's also an army of volunteers who work behind the scenes, Sheryl said.
After hearing about the Raceway Ministries at a church conference, the Turners, who live in Basehor, decided it would be a good way to volunteer their time, as well as share the ministry's message with anyone interested.
"For Tony and I, volunteering is just something we do as a family," she said.
Raceway Ministries volunteers set up tents in the campgrounds to offer meals to other volunteers, and they provide entertainment and refreshments to race fans and their families, she said. In addition to a short Sunday worship service in the campgrounds, volunteers also run the trams around the track.
The Turners often work 16-hour days in blistering heat or icy winds on race weekends, but it's all worth it, Sheryl said. On those extreme days, race fans often tell her she doesn't get paid enough. They're shocked to learn she doesn't get paid at all.
"I've had people tell me they would never do it unless they got paid," she said, but that's the difference between people, she adds.
She's been manning the tram stop at turn one ever since she started volunteering, and Tony has been driving a tram, which he especially enjoys because he gets to interact with children, Sheryl said.
Sheryl will only see these fans twice a year, but many remember her face year after year.
When the race was over and the old man saw Sheryl moving again, she was busy moving hundreds of people onto the bus. He stopped her to thank her for volunteering, and as a token of gratitude, he slipped off his jeweled Richard Petty Hall of Fame ring to let her hold it.
"I have never taken this off for anybody," he told her.
Despite the lines of people waiting to leave, everyone crowded around to see the ring. Sheryl may not understand much about racing, but his actions were loud and clear.
"I felt honored that he trusted me enough to take it off and hold it," Sheryl said.
For more information about Raceway Ministries, visit racewayministries.com.