Braves escape Turner with 12-7 season-opening victory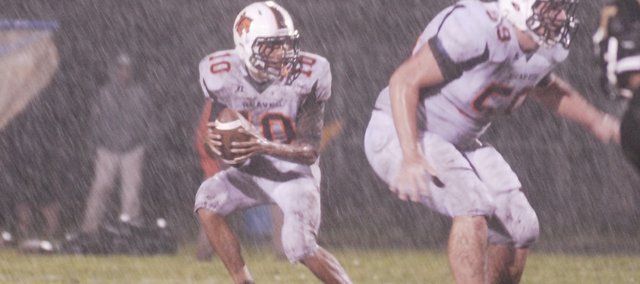 KANSAS CITY, KAN. — Jordan Jackson wanted to throw. And after the debut season he had last year, why wouldn't he?
But a washed up hurricane tends to have a way of taking a football team in Kansas out of its element. Friday's game at Turner would be won on the soaked, muddy ground — at least that's what its almost ethereal conditions suggested.
The Braves trailed the Bears, 7-6, at the start of the fourth quarter, a missed extra point being the difference, and good field position for Bonner Springs as easy to come by as a dry blade of grass. So Jackson dropped back and sent a quick pass to sophomore Thaddeus Glenn, who beat his cornerback and cut across the middle of the field for a 51-yard touchdown en route to a 12-7 victory.
"It was a great play by Thaddeus," Jackson said. "He really made it easy on me, and our line went out there and blocked everyone that needed to be blocked."
Coach Lucas Aslin said he knew the Braves would eventually break one loose, noting how far some of Turner's defensive backs would need to travel should they become the last line of defense.
Aslin could breathe easier now, his team hastily making for the bus, eager to return home 1-0 on a night that had all the trappings of a season-opening loss.
Weather aside, Turner posed a threat in that it had little to no film available for study as coach Jeremy Milne takes over the program. The Bears also handed the Braves a 35-14 defeat inside David Jaynes Stadium last year, one game before Jackson took over as starting quarterback.
So Aslin wasn't about to take this team lightly, and it gave him no reason to do so.
Turner wasted little time getting things going on the ground, scoring on its opening drive on a 9-yard run by quarterback Paul Berry. Berry lit up the Braves for more than 100 yards on the ground in the first half, taking off for runs of 13, 15 and 25 yards.
Just before halftime, Berry went down headfirst on the sideline, remaining motionless before being taken away by an ambulance. Later, Turner coaches said Berry was able to move his legs, did not lose consciousness and apparently suffered back spasms.
The Bears kept the Braves off the board into the second quarter, even handing Jackson just his second career interception.
Bonner Springs defensive front, led by senior Tyler Howell (11 tackles, one sack) and junior Austin Goodlin (6 tackles, one forced fumble), eventually slowed Turner's rushing attack, and junior Kyle Dumler lit up Turner running back Deandre Fenrick for a six-yard loss. The tackle preceded a fumble recovery that finally put the Braves in decent field position.
It took just three plays for the Braves to end their scoring drought, as Jared Knershield took off for a 34-yard score, making a Turner defender miss in the backfield and slipping out of a scrum just beyond the line of scrimmage. The Braves missed the extra point attempt, further ramping up the pressure to break a big play in the second half.
"These are hard games," Aslin said. "If you lose a game like this, it's devastating because you feel like didn't get chance to play your game."
Jackson led the Braves with 69 rushing yards on 12 attempts, and completed 7-of-14 passes for 77 yards. Knershield added 65 yards on 13 attempts.
The only Brave to get banged up was center Les Wessel, who gave Bonner Springs a scare when he needed to be helped off the field.
Upon closer examination, Wessel appeared to have hyperextended his knee and Aslin said he hoped to have him back on the field when the Braves travel to Lansing at 7 p.m. on Friday.