Google Fiber not likely to expand in Bonner, Edwardsville anytime soon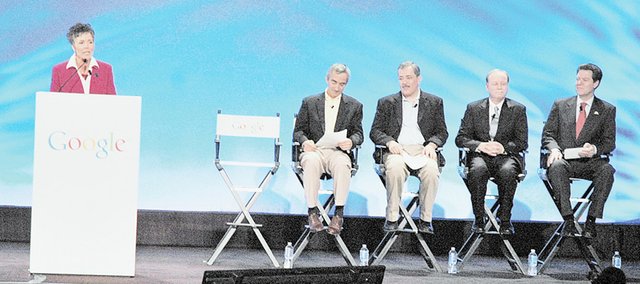 Residents of southwest Wyandotte County shouldn't look for Google Fiber in their neighborhoods for some time, with use of utility rights-of-way one of the biggest considerations for future expansion.
After a meeting Wednesday between Google officials and Bonner Springs Mayor Clausie Smith, Edwardsville Mayor John "Tiny" McTaggart and Kansas City, Kan., Mayor Joe Reardon, Smith said it was clear that the company had no plans outside of its current "rallies" for Kansas City, Kan., Kansas City, Mo., and a small portion of Johnson County.
"They said they are committed to their original mission to do KCK and KCMO and do that with quality," he said. "So basically, they're going to finish up what they're doing, and then they'll decide where to go from there. So I wouldn't look forward to seeing Google out here in the near future.
"They were very forthright and very open about it; it's just not in their plans right now."
Google Inc. announced in early 2011 that it had selected Kansas City, Kan., for the first launch of the fiberoptic-based, gigabit-speed internet service, as well as cable-like television services.
Jenna Wandres, policy communications associate for Google Fiber, said in addition to being a great community that could make good use of the service, one reason Kansas City, Kan., was chosen was it had a good utilities infrastructure.
"We will build the fiber network along utility poles, and those poles have to have room and be relatively clean," Wandres said.
And in a majority of Kansas City, Kan., power poles are controlled by the not-for-profit Kansas City Board of Public Utilities, so Google only needed to get an agreement with one utility company for the use those poles.
Wandres said the decision to move into central Kansas City, Mo., rather than elsewhere in Wyandotte County was in part due to the strong relationship between the two major metropolitan cities.
"We recognize that a gig is most powerful when it's used by a community, not just individuals, but everybody together," she said. "So we learned relatively quickly that Kansas City, Mo., was a big part of this community."
To serve Kansas City, Mo., Google needed to get an agreement to use utility poles owned by Kansas City Power & Light — which also serves most other cities across the metropolitan area.
These two cities make up the first Google Fiber "rally," a process in which areas designated as Fiberhoods get at least 10 percent of residents preregistered for the service by a certain date. Southern areas of Kansas City, Mo., and the portion of the city north of the Missouri River were to be part of a second rally.
The decision to add extreme northeast Johnson County to the second rally — the smaller cities of Westwood, Westwood Hills and Mission Woods that share borders with Kansas City, Kan., and Kansas City, Mo. — was made both because of their proximity and because their mayors started communication with Google officials about receiving the service some time ago.
"They're literally right down the street, so it really just made sense from a networking standpoint," Wandres said.
But in Bonner Springs and Edwardsville, as well as nearby areas of Leavenworth County, residents receive electricity through Westar Energy. Smith said he thinks that if Google Fiber must create an agreement with yet another utility company in order to provide service to an area, that will mean a delay in Bonner or Edwardsville being included in any future rally.
Google previously announced that it could take until the end of 2013 to complete installation for the first rally, and Wandres said Google is focused on getting its first rallies complete at this time.
"We do hope to expand in the future, but right now we're going to be very busy building out Kansas City, Kan., and Kansas City, Mo.," she said.
One area related to Bonner Springs will get to experience the service — in USD 204, the Fiberhood surrounding Delaware Ridge Elementary School in Kansas City, Kan., has 26 percent of its residents, or 138 homes, preregistered, meaning the school will receive the service for free.