Jackson's torrid start signals potential still on the horizon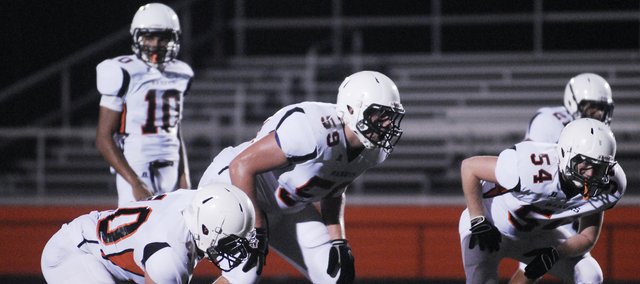 Bonner Springs football coach Lucas Aslin knew his junior quarterback, Jordan Jackson, would need to shoulder a greater load in his second season as starter.
Early returns indicate he's more than up for the task.
On Friday at Lansing, in the Braves' second-straight league road game to start the season, Jackson was the Bonner Springs offense. He accounted for all five of his team's touchdowns as the Braves defeated Lansing 34-7. Jackson completed touchdowns of 99 yards and 57 yards to Travis Dooley, and also ran in two scores while compiling 432 yards of total offense (314 passing, 118 rushing).
Still, after all that — and this is something likely to make opposing coaches cringe and scouts salivate — Aslin says Jackson isn't even close to hitting his ceiling. Not yet, not even after going 7-1 in league play thus far — his only loss being his first game as starter — and having thrown just two interceptions in his varsity career.
Sitting in his office on Monday, a weekend spent reviewing tape behind him, Aslin said he graded Jackson's footwork and read progression at a C or D. Seriously.
"He has a lot of room to get better," Aslin said.
With the benefit of clearer skies this time around, Aslin got to see the Braves offense operate unencumbered. The Braves jumped to a 12-0 halftime lead, and struck early in the second half to go up 20-0. When the Lions sought to take away Jackson's running lanes and make him beat them with the pass, he was happy to oblige.
"Jordan is a guy who can do anything you ask of him — a special quality of a quarterback," Aslin said. "His two major weapons from last year are gone so he has to run more himself. He's a special kid, and does a great job making plays. My biggest scare is making sure he doesn't try to do too much."
Much has been made of the graduation of wide receiver Stevie Williams and running back J.J. Jackson, Jordan's older brother. In Jackson's place is Jared Knershield, one of the strongest players on the team and plenty capable of breaking loose — Knershield scored the season's first touchdown off a 34-yard run against Turner on Aug. 31.
Against Turner, Jackson and Knershield combined for 134 yards. On Friday at Lansing, Jackson owned the night's biggest run (30) and the top rushing total — Knershield added 17 carries for 51 yards.
With Williams gone, so supposedly went the Braves' "home-run threat," as Aslin likes to say. Dooley turning both of his two targets into long scores may paint a different picture — one in which shares a canvas with Thaddeus Glenn's 51-yard game winner at Turner — but Aslin assured that this year's receiving corps is a more balanced unit. Mason Roberts led the Braves with six receptions on Friday and both he and Jonathan Blackwell hauled in receptions of 44 and 45 yards, respectively.
Another bright spot for Bonner Springs was its second straight week of holding the home team to just seven points. Against Lansing, the Braves limited the Lions' offense to less than 200 total yards.
Senior Tyler Howell continued his strong start to the season, picking up three sacks. Kyle Dumler moved from outside linebacker to defensive end on Friday, in a shift that will vary each week, depending on the opponent's offensive system.
Dumler has given Bonner Springs something of a luxury this year in that his 285-pound frame can quell power running attacks while at outside linebacker, and against teams that favor the pass, Dumler can team with Howell to create havoc up front.
"He's a guy we'll move each week to one place or another," Aslin said.
Though happy to start 2-0, Aslin still saw plenty needing shored up before the Braves begin a bear of a three-game stretch: at Piper on Sept 21, vs. Mill Valley on Sept. 28 and vs. Basehor-Linwood on Oct. 5.
For one, the Braves' inability to kick field goals have forced them to go for two in recent weeks, something Aslin would like to balance better. Secondly, he wants the Braves to cut down on penalties, most notably holding calls on Bonner Springs receivers.
For all the big plays the Braves strung together at Lansing, Aslin said he saw four more come back because of such calls.
That rash of yellow flags still couldn't keep the Braves off the board, and just two weeks into the season, Bonner Springs has accomplished its goal for the first third of the season. Before the season, Aslin told the Braves he wanted them to look at the nine-game regular season slate as if it were a baseball series of sorts. Breaking the year up in to three-game chunks, he asked his team to take at least two out of every three.
Entering their home opener against 0-2 Bishop Ward at 7 p.m. Friday, a little extra credit appears well within reach.