New school lunches get B+ in
USD

204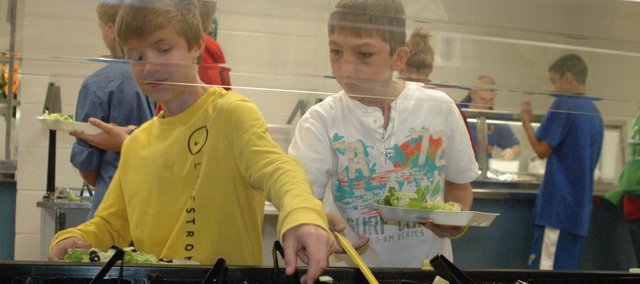 Seventh-grader Jacob Merino didn't mince words when he described what school lunches were like in past years.
"They tasted like… well, grease. Grease on a platter. Didn't taste too yummy in my tummy," he laughed.
Merino was part of a group of students who did a study last year of the nutritional value of school lunches — then all but begged the USD 204 school board last spring to offer more healthy lunch options. This week, Merino and his classmates gave positive reviews to the new lunches in their cafeteria at Clark Middle School.
When they discussed last year's food, they shared tales of greasy pizza, chunky milk, gelatinous cottage cheese, an overabundance of sugar and suspicious-looking meat.
"This year, you can look at the food and actually want to eat it," Bella Lawrence said. "Last year, you'd look at the food and be asking yourself, 'Do I really want to eat this?'"
Not all students in the Bonner Springs-Edwardsville school district have been as thrilled as the seventh-graders, but Superintendent Robert VanMaren said, overall, things have been going well since the district switched to a private food-service company, Opaa Food Management, which focuses on made-from-scratch cooking.
"I'm pleased," VanMaren said. "I'd give it a B+ at this point, and things are getting better."
It wasn't only the sixth-graders' impassioned pleas that prompted the new school lunches. New federal school lunch nutrition guidelines, part of the Healthy, Hunger-Free Kids Act of 2010, went into effect for this school year. The regulations limit calories and increase the amount of whole grain, fruits and vegetables in each meal.
VanMaren said maybe 80 percent of the comments from high school students have been positive, and that may improve as the school adds more a la carte items. He said there have been a few issues with kids getting more food and spending more money, because getting a regular meal and loading up from the salad bar counts as two meals.
"We've just got to do a better job of letting kids know what options they can have," VanMaren said.
Elementary schools have struggled largely because the lunches require a lot of self-service, something not all kindergartners and first-graders are up to. Teachers have had to assist younger students with those skills.
Probably the biggest challenge has been for the cafeteria staff. The district has had to hire new cafeteria workers as a handful have resigned, and VanMaren said the district also may have to increase hours until the staff becomes comfortable with the food they are making.
"Most of what we did before was heat and eat, and now we have recipes," VanMaren said. "I don't really see it as out of the norm. Whenever you make a big change like this there's always things to learn. A lot of things have changed in the cafeteria."
While some students in the Basehor-Linwood district, which also hired Opaa to provide its food services, have complained that the portions are too small, the seventh-graders at Clark say that hasn't been their experience. Bella explained that as long as students filled their plate with as many choices as they could, they were going to be pretty full. And Coleton Nelson said sometimes students have a hard time deciding what to get.
"Last year, a lot of people threw their lunches away, and that was kind of a waste of money for the moms and dads," he added. "This year I think there's barely any lunch that isn't eaten off people's trays."
The food also may be providing benefits in the classroom and beyond the school doors.
"It's helped me do better with my school work, because last year, the food kind of threw me off balance," Cole Clifton said. "But it's also helped me at home getting my family to eat better."