Tonganoxie resident's barbecue team coming to a
TV

near you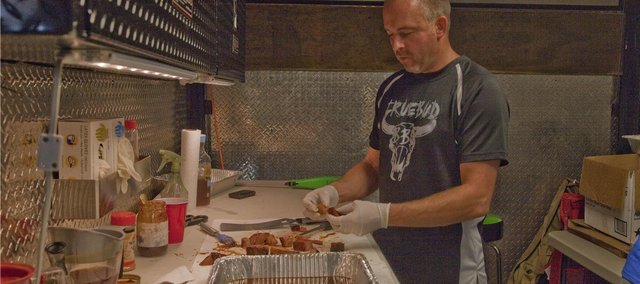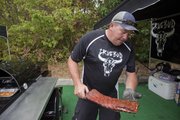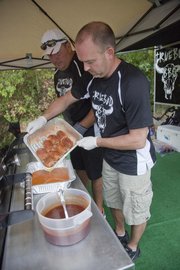 Not much could distract Truebud BBQ from its pedal-to-the-metal quest to become the top competitive barbecue team in the country.
However, pitmaster Tim Grant of Tonganoxie says, getting on TV is worth taking one weekend off.
Grant and Boyd Abts of Eudora, the team's leaders, announced this week they'll be one of three Kansas City area teams appearing on Season 4 of BBQ Pitmasters. Filming will take place at the American Royal Barbecue, the weekend of Oct. 6 in Kansas City, Mo., though the Pitmasters teams will compete against each other instead of in the Royal.
"That's always been in the back of our minds — it'd be really cool to be on Pitmasters," Grant said Friday (via cell phone en route to Pine Bluff, Ark., for the Smoke on the Water Arkansas Championship barbecue contest).
Grant and Abts have been cooking all over the United States nearly every weekend since February, amassing enough wins to maintain top-10 status in the Kansas City Barbeque Society's 2012 Team of the Year points chase.
That's partly why Pitmasters picked them, said Ron Simon, executive producer for the Destination America network.
"We need people who have proven they know how to barbecue," Simon said in an email. "This means they need to be award-winning on the barbecue circuit or recognized as the best by the community in local rankings year after year."
Simon added that teams also have to be camera-friendly and comfortable "putting their reputation on the line on national TV."
Pitmasters Season 4, which begins airing in November on Destination America, will focus on regional barbecue, Simon said. In the Kansas City episode, contestants will aim to cook the best Kansas City style 'cue.
Truebud will be up against Pellet Envy, led by Rod Gray of Leawood, and the Grinders Team, led by Kansas City, Mo., metal-sculptor and restaurant owner Jeff Rumaner, who goes by STRETCH. Pellet Envy was Kansas City Barbeque Society Team of the Year in 2009. STRETCH isn't on the competitive circuit, but he's a pro at backyard "swine and dine" parties and his restaurant is a Kansas City favorite.
Grant said he's confident he and Abts can cook anything Pitmasters puts in front of them. But he does have a preference — the category Truebud won Team of the Year in last year would be nice.
Said Grant, "We're hoping it's ribs."