Bonner couple has best honey, apples in state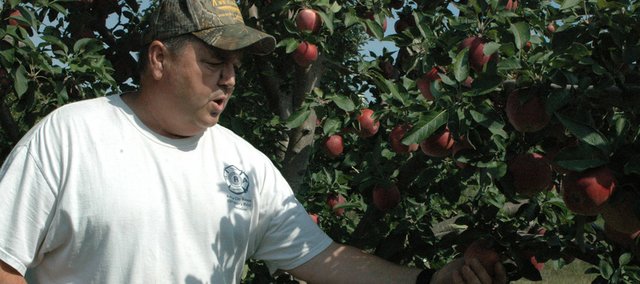 Walt Stephen started planting apple trees on his land when his family moved to Bonner Springs 20 years ago just so he'd have "something to do" when he retired.
Now, that "something to do" is earning Walt and his wife, Karlon, recognition for producing some of the best apples, honey and honey-related products in the state.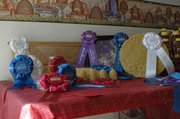 The Stephens won ribbons for all 15 entries they made in the Kansas State Fair, which ran Sept. 7-16 in Hutchinson. The couple brought home nine first-place, three second-place and three third-place awards, including a best of show ribbon for all of their honey products, the best Governor's Gift Basket for honey products, and, for the second year in a row, Grand Champion Apple.
Walt Stephen said the win gives the eastern part of the state a little bit of recognition, because most entries in the state fair competitions come from farther west.
"It's nice that the eastern part of the state gets a little credit down there, because we always get bypassed," he said.
He also hopes his wins spread awareness among northeast Kansas residents that there are some great agricultural products being made right in their backyard.
Stephen was a Kansas City, Kan., fire captain for 30 years, but he knew he'd want some supplemental income when he retired. His plan was to raise some Hereford cattle and plant a small apple orchard, which now has about 40 trees.
"I'd plant seven or eight apple trees every year … I thought, 'One of these days, when I retire, I'll still have something to do.'"
Having bees on his property was a service provided by another local man in order to ensure pollination of his apple trees. But as Stephen neared retirement, his beekeeper died, and Stephen couldn't find a trustworthy replacement.
"So I said, 'Well, I'll just get a couple of beehives,'" he said, adding that he and Karlon started by attending some meetings of the Northeastern Kansas Beekeepers' Association. "My wife was kind of interested, so I thought, 'Well, we'll get her a hive and get me a hive … we'll learn together.'"
He soon decided that four hives would be better in order to provide the family some honey. Once he retired, that turned into 16 hives, with some located on other farms, and then 32. He said he realized that beekeeping could be another way to diversify his income.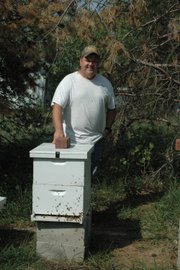 "The bees have taken over the orchard business, actually, just because we have so much honey," Stephen said.
Now Stephen has 40 colonies spread throughout Douglas, Leavenworth and Wyandotte counties. About 10 are on the Stephens' property, but the rest are "outyards," hives on other farms that Stephens tends to up to twice a week.
"It's kind of like our livestock – it's kind of the same thing, it's just bees instead of Herefords," he said.
Karlon, who still works as a nurse, got busy making use of the byproducts of beekeeping. She remembered her great-grandmother telling her stories about making soap, and she discovered some soap recipes that used beeswax.
After mastering soap, she moved on to other beeswax products: candles, lip balm, lotion bars, laundry detergent and fabric softener.
"It started with the soap and blossomed from there," she said. "It's kind of addictive, once you get started. You're like, 'Oh, this is cool.'"
She also enjoyed the self-sufficiency of making her own products and the ability to make them all-natural.
"I make my own cleaner and it cuts grease like you wouldn't believe," she said. "I wish I didn't have to work full-time, because I could do this full-time and be happy."
The Stephens sell their apples and honey products at the Lawrence Farmers' Market, and they're sure to be found entering next year's state fair, where Walt hopes to correct an oversight in the light honey category, one of his third-place ribbons.
"I think it should have taken first," he said. "But they said one of my glasses had a dimple in the glass, and that's what caused me to lose that one."