Scarecrow contest still seeking entries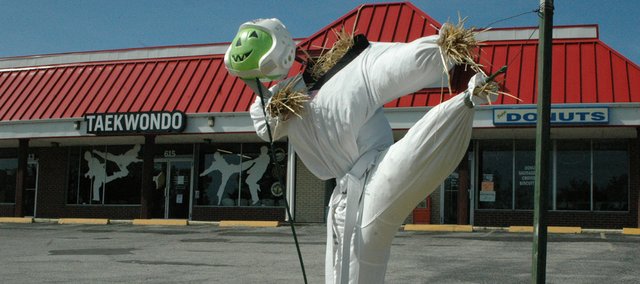 When it comes to making a scarecrow, Judy Shelton tries to get a little creative.
Shelton, the owner of Miller's Too, first made a scarecrow — a "mad pharmacist" — for Miller's Pharmacy to enter in the Bonner Springs Convention and Visitor's Bureau's Scarecrows on Parade.
Since Miller's Too combined with The Pink Zebra downtown, she has made two scarecrow entries: a little girl pushing a wheelbarrow full of pink pumpkins last year, and a "pink little old lady having coffee" this year.
Shelton said she enjoys creating scarecrows for the contest because it boosts community spirit and the appearance of Downtown Bonner.
"Lots of times, parents and especially grandparents will bring their grandkids downtown just to walk Oak Street and see the scarecrows," she said.
The Scarecrows on Parade started accepting entries Sept. 17, and scarecrow submissions will be accepted until Oct. 5, when they will be judged to determine winners in four categories, rather than just overall winners as in previous years. The scarecrows will remain on display through Oct. 31 downtown.
Residents can join businesses and organizations in creating a scarecrow or a group of scarecrows; $50 prizes will be awarded in residential, promotion of business, not-for-profit organization, and promotion of alma mater categories. The best of show winner will receive a $100 prize.
Rita Hurt, owner of Sunflower Embroidery, won second place last year. It was a "typical" scarecrow, Hurt said, but details like the burlap head, yo-yo's and baby squirrels in the pockets of his overalls helped him stand out.
"This year, we're hoping to win real big," she said.
The store's entry this year, made out of hand-dyed fabrics, is kind of ghostly hanging from the store's awning, but sports a friendly sunflower head.
Marcia Harrington, community and economic development director, said the contest was all about creating a fall atmosphere.
"The Convention and Tourism Committee would like to see many entries this year because it adds a whimsical touch to the fall season and makes it fun and interesting for our citizens and visitors alike," she said. "The categories and prizes were changed this year in hopes of attracting more entries. We would like business owners and residents to be involved and show pride in their community, and we believe this is a fun way to accomplish that."
Entries should be displayed at the entrant's home, organization or place of business. If not-for-profit organizations do not have a physical location, they may contact the city to determine a display location.
The use of fall decorations such as corn stalks, pumpkins and straw bales along with the scarecrows is encouraged. Scarecrows should be constructed with weather-proof materials if possible and monitored to maintain good condition.
Entry forms are available on the city's website, bonnersprings.org. Call 913-667-1703 for more information.