Making a name for herself: Bonner Springs freshman has four records — so far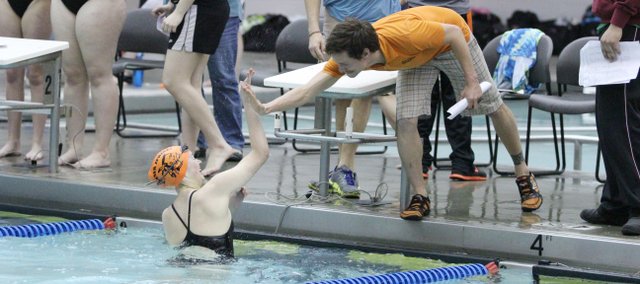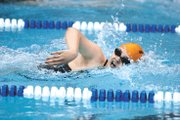 Now a Bonner Springs freshman, Robyn Lewis had tried soccer, softball, dance and gymnastics by the time she hit fourth grade. There was one thing, however, she was almost certain she'd never try.
"Until fourth grade I was scared of the water," Lewis said. "I hated it. Showers and that was it. I'd go to the pool, but I didn't get in."
That was until, at the behest of Dawn Jackson — the mother of her friend, now fellow BSHS freshman Julianne Jackson — Lewis finally took the plunge.
Until then, none of the sports she tried had truly clicked, she said.
"I've always thanked the Jackson's for everything," Lewis said. "If it wasn't for them, I would not be in swimming."
In the five years leading up to high school, Lewis swam alongside Emily Herre, whose 2010 onslaught of the BSHS record book is reflected on the list of records framed inside the Bonner Springs YMCA's natatorium. Turns out, those records had a shelf life of about three years.
In her first individual varsity event, in Topeka on March 28, Lewis took her block and turned to first-year BSHS coach Preston Williams.
"I want to get a 2:15," Lewis said before her 200-yard freestyle event. That would be a two-second improvement on the school mark.
By the time she slapped the wall a final time, she soon reached a hand out of the water to high-five Williams, Lewis having bested Herre's record by three seconds.
"I always knew I wanted to get to where she was," Lewis said of Herre's legacy at BSHS.
Since then, Lewis has twice broken school records in the 500-yard freestyle, has been a part of the 200-yard freestyle relay and 400-yard freestyle relay teams that each broke school records and she has also so far qualified for state in five events: her four BSHS records and the 100-yard butterfly. Still, she wants to own the school record in the 100-yard butterfly and 100-yard backstroke events.
This is also Williams' first year as BSHS boys and girls swim coach. Williams had, however, coached Lewis for three years entering this season. Now, the two also swim alongside one another competitively in a league that meets three mornings per week.
"Her work ethic blows me away," Williams said. "You tell her, 'this is what you've got to do to get better,' and she is going to do it. She loves to work and she loves to compete."
Lewis' emergence has helped soften the blow of sophomore Cassie Stock's absence because of injury. Williams said the timetable of Stock's return is unknown. When she returns, she'll join a team as competitive as it has been in recent memory.
Entering Wednesday's home meet, the Braves had already qualified for state in enough events to be able to send the entire team to the May 16-18 state championship meet, factoring in alternates. Williams said it's the first time in memory that an entire BSHS girls swim team will be able to make the trip to state.
That meet, at Hummer Sports Park in Topeka, will be at the same location Lewis first ensured real estate on the school's record list.
"It's just a sign of things to come," Williams said. "Her name's going to be up on that board quite a bit. Her name's up there already four times, including two relays. … She's going to replace a lot of the names up there, and she's going to be certainly one of the best swimmers to ever swim here."
All it took was a little encouragement one summer afternoon, and Lewis not wanting to show fear in front of onlookers.