The art of stealing: Gardea nears
BSHS

stolen base record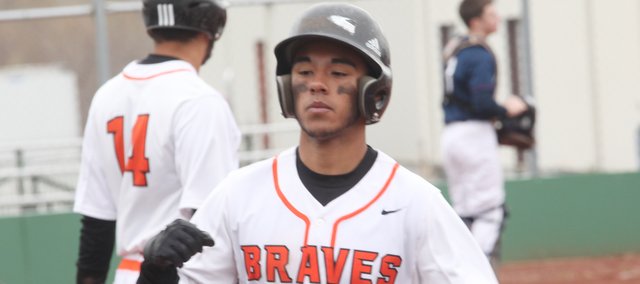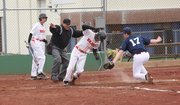 Related document
The difference between a player scoring and not scoring from second base on a single is speed.
Some players have it and others don't. Luis Gardea has it.
The Bonner Springs senior is six steals away from breaking the school record for most steals in a career: 36. Through 10 games this season, he already has 17. Entering Monday's game against Piper, Gardea had stolen three bases in a game three times this season. In a sweep at the hands of the Pirates, Gardea stole five more bases entering this week's Butch Foster Memorial Baseball Classic.
What may be more impressive is that he is closing in on the record in just two seasons of varsity.
BSHS baseball coach Scott Lero said he's gotten better at learning how to be a base stealer and learning how to be a baseball player in general.
"He's not just a fast guy out there running," Lero said. "He's learning the ins and outs of the game, how to take good leads, how to read pitchers, get good jumps. We have a sign I give him and it gives them the green light to go whenever they feel like they can make it."
Last year Lero would have given Gardea the signal and he would take off on the first pitch. Good or bad read on the pitcher, it didn't matter. He's learned to be more selective and it's shown as he hasn't been thrown out this season.
"This year, he knows, 'I've got the green light, I can go when I get a good read on the pitcher, when I get a good jump,'' Lero said. "That's the thing I'm most proud of is seeing his development as a player and on the basepaths."
BSHS has a lot of speed on its team this season and Gardea is the table setter. He is the Braves' leadoff hitter and can set the tone for a lot of things, including aggressiveness.
His mentality is to get on base. He only has one strikeout this season. He may not get on every time, but he's being selective with his pitches and is making contact.
"If I get an opportunity to steal then I'm obviously going to take it," Gardea said. "I'll just do it when the time's right."
BSHS doesn't have many players that can drive the ball, but it's trying to play fast and move runners to second base. This allows the Braves to score on a single whereas, if they didn't have speed, they'd have to string two or three hits in a row just to score one run.
"We want to turn a walk into a double, turn a single into a double," Lero said. "Any time we're on first, we want to try and get to second base. Any time (Gardea) gets on first, he can turn it into a double. He's a guy that can go get a bag any time he needs to go get a bag and that's a nice weapon to have."
Teams are noticing his speed and are throwing over to first or second to try and pick him off. Lero said opponents know he takes big, aggressive leads. Gardea puts pressure on the defense and he grabs its attention no matter where he is on the basepaths.
"Definitely first, but even second. He's stolen third just as many times as he's stolen second," Lero said.
Gardea said dealing with teams trying to pick him off is a part of the game.
"Baseball is about adjustments," he said.
Adjustments aren't just made from one game to the next or one at bat to the next or one pitch to the next. They're made throughout the course of an entire season and a player's career.
Lero has seen Gardea improve so much from his junior to senior year, which is where most players make their big jumps.
"His approach at the plate is so much better; his overall swing," Lero said. "He uses his whole body, his hands are quicker, he's aggressive. Last year he was a little timid at the plate. He's having a really good year so far."
Gardea has also transitioned from an infielder to an outfielder. Lero said if Gardea is going to play at the next level, he'll be playing in the outfield because of his skill set. He's got the speed and his hands are probably better in the outfield.
"I like winning and if it helps winning, then I like doing it," Gardea said.