Tiblow Days makes some changes for 2013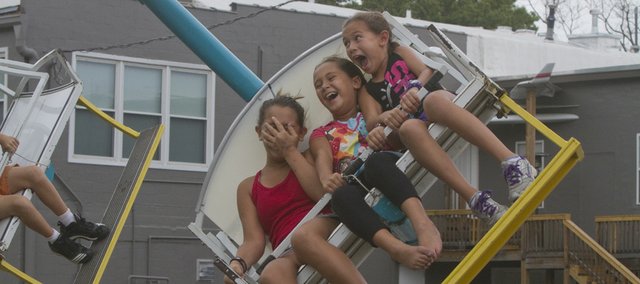 While most of the usual Tiblow Days events will return to this year's festival Aug. 22-24, a few changes may throw regular attendees for a loop.
The Mayor's Banquet has been moved from Thursday to Friday night at Mayor Jeff Harrington's request, which means the Bonner Springs City Band concert and ice cream social was moved to Thursday. Regina Utter, executive director of the Bonner Springs Edwardsville Chamber of Commerce, said there also will be a few new things at this year's festival.
Most important will be a variety of new vendors in Downtown Bonner Springs. Of the 110 vendors for the festival, 70 of them have never been to Tiblow Days before, Utter said.
"It's just crazy all these people who have never been here before," Utter said. "I started asking these people how they heard about it and contacted me. I get the same thing, 'I saw it through this website,' or 'I heard about it from this friend.'"
New vendors include a noodle house food booth, wheel-thrown pottery and glass jewelry and a handbag vendor who provides purses and bags for those who have a concealed carry license.
Utter attributes this to greater efforts to include Tiblow Days on websites for metropolitan-area organizations that promote area festivals or have a calendar of events.
The festival's Saturday morning parade will include a new way for the average citizen to participate — particularly if they are a fan of pop culture's current obsession with zombies.
At the suggestion of 3rd Street Asylum owner Mike Clouse, who sits on the Tiblow Days board, the parade will include a Zombie Walk. Anyone who shows up dressed like a zombie and donating at least one canned good for Vaughn-Trent can participate in the walk, which will stumble along zombie-style at the end of the parade.
Anyone who needs specifics about the schedule or how to get involved in various Tiblow Days events can check the chamber's website, bsedwchamber.org. A full schedule of events will be printed in the Aug. 22 edition of The Chieftain.
For more information, contact the chamber's office at 913-422-5044 or info@bsedwchamber.org.
Tiblow Days event details
The events begin with the carnival and the City Band Concert and Ice Cream Social at Kelly Murphy Park at 8:30 p.m. on Thursday, Aug. 22. The carnival will be set up in the parking lot east of Elm, between Second and Third Streets. The carnival will open from 3 to 11 p.m. and $20 wristbands will be on sale for 5-9pm rides.
Events on Friday, Aug. 23 include the carnival, Mayors Banquet, Smokin' on Oak BBQ Competition, musical entertainment and vendor booths. The carnival will be open from 11 a.m. to 11 p.m., with $20 wristbands from 6-10 p.m. Vendor booths will be open 5-11 p.m. A BBQ People's Choice will be held from 5 to 7:30 p.m., and the cost is $5 for 5 samples with the proceeds benefiting the USD 204 Education Foundation.
There also will be a Chamber of Commerce Beer Garden and two free concerts at Centennial Park. Proceeds from the Chamber Beer Garden will benefit Bonner Springs Project Graduation.
The Mayor's Banquet will be held at the Bonner Springs High School Cafeteria, 100 McDanield and will begin at 6 p.m. Tickets are $20 and can be purchased at the Bonner Springs City Hall, from Rotary Club members, or at the Chamber Office between 9 a.m. and 1 p.m. on Monday, Wednesday and Friday.
The bands for Friday night are Years Past, scheduled to play at 8 p.m. and Syn City Cowboys at 9:45 p.m.
Events on Aug. 24 begin with biscuits and gravy 6-9 a.m. at the First Christian Church, 148 North Nettleton. The Tiblow Trot 5-Mile Run and 2-Mile Walk begins at 7 a.m. at Kelly Murphy Park at Second & Elm.
Vendor Booths will be open from 9 a.m. to 5 p.m. The annual parade (rain or
shine) begins at 9:30 p.m. to start at Nettleton & Morse, down Nettleton to Oak Street and down Oak Street to end at Front Street. The parade will also feature a Zombie Walk. Other Saturday events include:
• Carnival from 9 a.m. to 11:00 p.m.
• Car Show from 11 a.m. to 2 p.m. on Oak Street; Parade Trophy Awards at Kelly Murphy Park at 11:00 a.m.
• Smokin' on Oak BBQ Competition at 11:30 a.m. with Awards at 3:30 p.m.
• A number of group performances at Kelly Murphy Park from 11:15 a.m. to 3 p.m., and a Community Pinewood Derby hosted by the Bonner Springs Cub Scout Pack 3149.
• A Chamber of Commerce Beer Garden and two free concerts at Centennial Park. The bands are Outlaw Junkies, scheduled to play at 7:30 p.m., and County Road 5 at 9:30 p.m. A fireworks display will follow the concerts.