Running to remember:
BSHS

senior tests own limits to benefit lung disease fund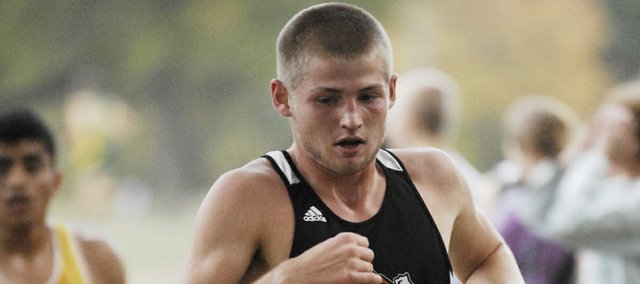 To donate
BSHS senior Austin Schuler would still like to collect donations for the Cooper Connor Endowed Fund for Pulmonary Research. Any amount of money can be sent to 200 S. 110th St., Edwardsville, KS 66111. Make checks payable to Children's Mercy, where Schuler said 100 percent of the proceeds will go.
Austin Schuler's lungs told him to slow down, that he started too fast at first. Unaccustomed to running up to 27 miles at a time, Schuler embarked on the Prairie Spirit Rail Trail's start in Ottawa intending to run that distance four consecutive mornings.
"If I run fast now," he told himself, "the next three days aren't going to happen."
Joined by his grandfather, Don Schuler, who piloted a bicycle packed with provisions, Austin set out to run from Ottawa to Garnett, Garnett to Iola and retrace his steps back to Ottawa as part of his Bonner Springs High senior project last month.
Schuler also ran for Cooper Connor, a boy he'd never met and a child unable to join his family for his birthdays. When Schuler began scour the web for senior project ideas, he found Cooper's story on Children Mercy Hospital's website. Reading about Cooper, who died from lung disease in 2007, reminded Schuler of the vitality of healthy lungs. A BSHS cross-country runner and track athlete, Schuler wanted to help raise funds for an endowment in Cooper's name.
So after distributing fliers announcing his intentions to run 105 miles in four days and urging those he knew to make a contribution to Cooper's fund, Austin and Don Schuler hit the trail at 7 a.m. on July 21. Miles of monotony awaited and exhaustion would prove a cruel temptress.
'Keep his memory alive'
Cooper Connor was born Aug. 7, 2006. The first eight weeks of his life was spent at Children's Mercy in Kansas City, Mo. One week was spent in a coma and eight weeks were spent in NICU. He went home on oxygen. The last month of his life, his family took him to the Mayo Clinic, where his parents, Blish and Richard Connor, were told that they were doing all the right things, that Cooper was suffering from an unspecified pulmonary disorder. But they were essentially on their own. Upon returning home, Cooper's health began failing until he passed away on May 30, 2007.
The Connors later partnered with Children's Mercy to start the Cooper Connor Endowed Fund for Pulmonary Research, what Blish now calls "a silver lining" that has persisted in the years following Cooper's brief life.
"All we really wanted was to keep his memory alive," she said. "I think that's what any parent who loses a child wants to think in a small way."
The Connors make yearly deposits to the endowment, and family and close friends have donated through the years. A goal of $50,000 was set and promptly met, doubling before soaring to the point where the Connors, who now live in Mission Hills, can no longer recite it from memory. They don't necessarily have a goal outside of the endowment's aim of aiding research into pulmonary diseases, which cause one in six infant deaths, according to the National Institutes of Health. They just want to keep Cooper's memory alive.
Late this spring, the Connors received word from Austin Schuler that he'd like to dedicate his senior project to raising funds for their endowment. The move marked a first for the Connors, Blish said, in that Austin was the first stranger seeking to contribute.
"To have somebody reach out was amazing," Connor said. "Maybe it's a sign of the times that he found us online."
Picturesque
The first few stops along the trail featured water fountains whose taps were shut off. So it was a good thing Don Schuler joined his grandson by bicycle, toting a pair of gallon jugs of water and an additional few bottles scattered in tow.
Don also carried all other supplies, including clothes and the money he and Austin had raised through their annual summer grass cutting endeavors in Bonner Springs and Edwardsville. The pair raised enough to cover gas for the drive to Ottawa, three nights in hotels along the trail and enough Pizza Hut to euthanize more sedentary customers.
Austin bathed in ice each evening before bed, waking in time to return to the trail by 7. Soreness carried over from the day before and persisted each day after.
"The worst part was probably just getting out of bed," Austin said. "And the first two to three miles were always the worst on the second, third and fourth days."
Once he got into a rhythm, Austin said, it wasn't so bad. He surprised his grandfather with his ability to talk the entire trek without gasps for air peppering their conversations, of which there were many.
"We talked about all kinds of stuff," Don said. "I heard some stuff I've never heard before and told him things I've never told him before."
Don's second job, he added, was to "take lots of pictures." When recounting the trail a week later, Don and Austin flipped through a thick stack of prints. Austin sitting in an old abandoned tractor. Austin touching a large trail-crossing turtle. Austin climbing an oil tank. Austin waving from a red Santa Fe caboose. Austin digging into one of several foil tins of Pizza Hut pasta that covered the booth they shared one night.
'Bigger mission'
The third day was "hot, humid and awful," Austin said. Still, his decision to run more than 100 miles for the first time in late July — which was met with questions by friends and family, the Schulers said — was rewarded by a lack of scorching conditions that week.
Along the way, Austin said, his mother, Erin, texted him updates of new donations received that Don relayed.
"It really motivated me and kept me going," Austin said.
Austin, who is undecided on a college but wants to pursue chiropractics, brought just one pair of shoes for the trail so as not to overburden his grandfather. They held up, but Blish Connor still later sent him a gift card to a running shop as a thank you.
Before the run, Austin set a ground rule stipulating that he could walk at any time and for as long as he wished — because probably, he told his grandfather, he'd need to. Turned out, he never stopped running.
"I know what you're doing," Don told Austin as they traveled north back toward Ottawa that final day, "you're refusing to walk."
"Yep," Austin managed.
"I don't care what it was," Don later said, "he was going to run that. He was dead tired toward the end."
Austin completed his goal on July 24 but still wants to collect donations from anyone interested in contributing to Cooper Connor's endowment.
The day before what would have been her son's seventh birthday, Blish prepared to return home from a vacation in Wisconsin. She recalled that, despite the hardships Cooper endured, "there was definitely a warm spirit about him."
She also took a moment to reflect on her first contact with a stranger interested in helping Cooper's cause.
"I'm a big believer in fate," she said. "His birthday is tomorrow and this is all happening this time of year. I get a sense that there is some bigger mission out there."