Tiblow Trot turns 35 years old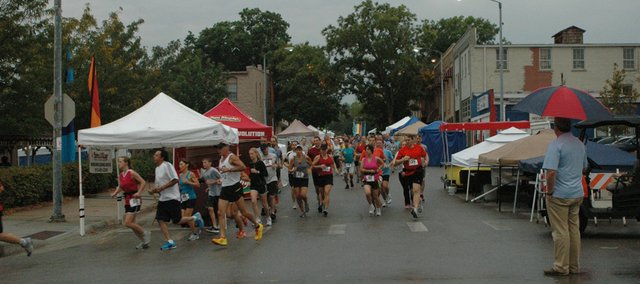 At 35 years old, the Tiblow Trot isn't just any running event — it's one of the longest-running running events in the Kansas City area.
The Bonner Springs Rotary Club will hold the 35th annual 5-mile run and 2-mile walk on Saturday, a milestone few area events can boast. But even with such a long history, the event's length still inspires a little bit of confusion, say club members Dean Buhrle and Bruce Coleman.
Event details
• Price: $25 day of the race for both walkers and runners, which includes T-shirts for the first 250 entrants; Kids Run or Walk (12 and under) is $11 day of race
• Packet pick-up and pre-registration: 6-7 p.m. Friday at the park, Second and Elm streets
• Packet pick-up and registration day of event: 6-6:30 a.m. Saturday at the park
• Divisions: male and female 29 and under, 30-39, 40-49, 50-59, 60 and over
• Awards: Trophies to the first through third finishers, the first male and female finishers, the first and last walkers, youngest walker and largest group; traveling trophy for USD 204 school with the most participants
• Drawing for prizes donated by Bonner Springs merchants will follow the awards ceremony.
For more event information, contact Bruce Coleman at 913-422-3040 or bruce@colemanequip.com.
The event was created because the club wanted to do something as an event for the whole community that would raise funds for Rotary International's effort to eradicate polio, and for the scholarships the club awards annually to local students.
Buhrle, a runner himself, came up with the idea of a 5-mile — not just a 5K — run, which has led to both appreciation and confusion for area runners over the years.
"I used to run a lot, and you'd have a few 5Ks, a lot of 10Ks, a few 15Ks, some half-marathons, but a five mile — that was an odd distance, and I thought, 'Well, this is a little different,'" Buhrle said.
Buhrle laid out the course, which winds through the city from downtown to 138th Street, down Morse and up Nettleton, before heading back southwest to its starting point.
"I tell people, 'It's only five miles, but it's as tough as any 10K you'll ever run,'" said Buhrle, who led the organization of the run for its first 20 years. "It's pretty rough."
The first winner of the event was Steve Shaad, now of Wichita, who clocked in at 26 minutes, 10 seconds. The best time on the course goes to Phil Hudnell of Lenexa, who in 1997 set the record at 24 minutes, 42 seconds.
"We have people every now and then who are like 'I thought this was a 5K!'" added Coleman, who took over as lead Trot organizer 15 years ago.
Still, there are other runners who appreciate the different event length and the challenge of the course, Coleman said.
The first Tiblow Trot wasn't related to Tiblow Days; it was held in November. But the club members quickly realized that the event would benefit from being part of the city's similarly-named annual festival, so the second annual event was moved to the Tiblow Days weekend.
Over the years, really, not much has changed. The course has been the same every year, save one when road construction forced some changes. It has only been rained on a handful of years and never canceled, though one year it was delayed.
Participation has been as low as 65 runners and as high as 200. Once the club added a two-mile walk and Kids Run or Walk nine years ago, participation reached as high as 300 or so.
For the past two years, they have had another organization time the runners from the moment they cross the start line to the moment they cross the finish line.
"Always before, we were calling out the finish times as they ran across the finish line," Buhrle said. "It was rather archaic, but it worked."
Another thing that hasn't changed is the willingness of local merchants to contribute to the run, which is followed by a prize drawing for all participants and awards to the winners in several categories.
"I've heard a lot of out-of-town runners, people who come and do it for the first time, say that it's got a small, retro-type feel to it, and I think the prize drawing is a part of that," Coleman said.
The event is set to begin at 7 a.m. Saturday at Kelly Murphy Park, Second and Elm streets, with registration beginning at 6 a.m. There also will be preregistration 6-7 p.m. Friday at the park and online at sportkc.org.