Bonner Springs council asks
KDOT

to address exit ramp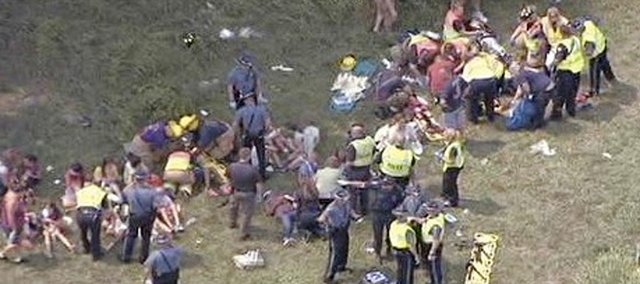 The site of the school bus rollover accident on Kansas Highway 7 has been a continual source of worry for the city of Bonner Springs.
The city has asked the Kansas Department of Transportation several times to extend the guardrail on the southbound exit ramp to Kansas Highway 32 in the past few years. On Monday, Mayor Jeff Harrington told the city council he would send a letter to KDOT repeating the request.
"We again request the guardrail be extended further down the ramp as an interim measure," the letter states. "We continue to believe that the turns on this ramp are too close together, too sharp an angle and that the entire design of the ramp should be addressed."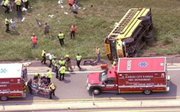 John "Jack" Helin, city manager, said the exit ramp has been a top concern for some time.
"For years, we've been asking: extend the guardrail," he said.
According to the Kansas Highway Patrol, the bus in last week's rollover was southbound on K-7, and its right-side tires left the roadway when it entered the exit ramp to K-32. The driver applied the brakes and attempted to steer back, but the rear end of the bus slid sideways down the embankment before the bus overturned on its side.
Helin and Harrington Monday noted that KDOT officials told the Kansas City Star that the ramp had been the subject of an engineering study last summer after a large number of crashes in 2010 and 2011, and KDOT had made improvements that had reduced the number of crashes on the ramp. Those improvements included reducing the suggested exit speed to 25 miles per hour, repaving the ramp to address concerns of a slick surface and adding arrows to quide motorists through the turn.
The city most recently requested improvements to the ramp in a K-7 "worry list" sent to Jim Pickens, KDOT district engineer, in May 2012. The city noted in the letter that cars continue to exit too fast, sliding off the road and down the embankment when the roadway is wet. The letter said the advisory exit speed limit can't be legally enforced.
On Monday, Councilmen Jack Knight and Bob Reeves both recounted experiences of seeing cars using that exit accidently drive onto the neighboring entry ramp.
The Star reported that KDOT is planning to look at new data to determine if guardrails should be extended on the ramp; the city's letter asks that city officials be involved in that review.
"I'm hoping that this incident will be enough of a tipping point that they will come and get (the guardrail extension) done," Helin said.