Milling about among the participants of the Tiblow Trot Saturday was a group that was easy to pick out in their dark yellow shirts.
The 5-mile run was marking its 35th year, and this group marked a smaller, but no less significant anniversary — the fourth year they have participated as a group in memory of Bonner Springs native Alan Reimer.
"It's just kind of a good time to remember Alan, get together, and do something that Alan loved to do," said Mike Mosier, a high school friend of Reimer.
Photo Gallery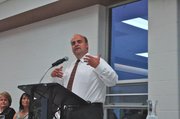 A few images from the 2013 Tiblow Days festival.
Reimer died in August of 2010 from injuries sustained while doing a training run on a hot summer day. He collapsed about a block from his Shawnee home. His neighbors found him and he was taken to the hospital, but he never recovered.
He was a standout runner at Bonner Springs High School — Mosier said the cross country team took second place at the state championships the year Reimer was a senior. He went on to run on cross country and track teams at Wichita State University.
In 1981, he came in first in the Tiblow Trot, setting what was then the record for the 5-mile course of 25 minutes, 24 seconds.
It is this accomplishment that the Reimer group marks on their T-shirts, which bear a copy of the photo and headline that ran in The Chieftain that year: "Reimer sets mark, wins Bonner Springs Tiblow Trot."
It was Reimer's brother, Steve, who thought that participating in the Trot might be a good way to honor his memory just a few weeks after his death in 2010. The following year, the Bonner Springs Rotary Club, which organizes the trot, officially named the award given to the top male finisher the Alan Reimer award.
Though the Reimer group hasn't been quite as big as it was that first year, they still return each year and have always won the event award for biggest group. The last two years, Reimer's great-nephew, Garrett Reimer, also has won the "youngest walker" award.
"It's just a fun race to do also for people like me, who used to live in Bonner Springs," Mosier said. "You see a lot of people you used to run with or used to go to high school with, whether they're running or standing on the sidelines cheering."
Photo Gallery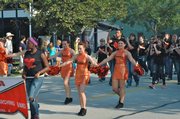 A few shots from the 2013 Tiblow Days parade.
Participation in this year's trot was down by about 50 runners compared to last year, but like most other Tiblow Days events, everything ran smoothly. The heat caused smaller crowds at some events, like Thursday night's City Band Concert and carnival.
But the change from Thursday to Friday for the Mayor's Banquet proved helpful, as the dinner had 174 attendees, 18 more than last year and a record since the banquet began in 1978.
The Marion Vaughn Community Service Award was given posthumously to Al Stuchlik, former Bonner Springs City Council member and volunteer for organizations like Vaughn-Trent Community Services, VFW Post 6401 and the Bonner Springs Horseshoe Tournament. Stuchlik's daughters accepted the award on his behalf.
Kenneth Tewell, former USD 204 superintendent and Vaughn-Trent board member, spoke of Stuchlik's commitment to helping others, even as a young man.
"You asked Al to do something, and Al would not only do it, he'd do twice as much and then ask 'What else do you need?'" Tewell said.
Mayor Jeff Harrington also gave the State of the City address at the banquet, reviewing the city's financial state and explaining the need to increase the property tax rate next year, and new USD 204 superintendent Dan Brungardt was the featured speaker, discussing how the district planned to move forward with new technology in the classroom.
Regina Utter, executive director of the Bonner Springs Edwardsville Chamber of Commerce, said that overall attendance may have been slightly down due to the heat, but carnival sales were higher than last years, as was the number of vendors. The Classic Car Show brought out 94 cars, and there were 38 entrants in the Smokin' on Oak barbecue competition. She said Saturday night's free concerts in particular were a success, with a lot of visitors at the chamber-sponsored beer garden, thanks in part to the Bonner Springs High School Alumni Bash.