Bonner Springs girls fall at Mill Valley, 49-46, in overtime thriller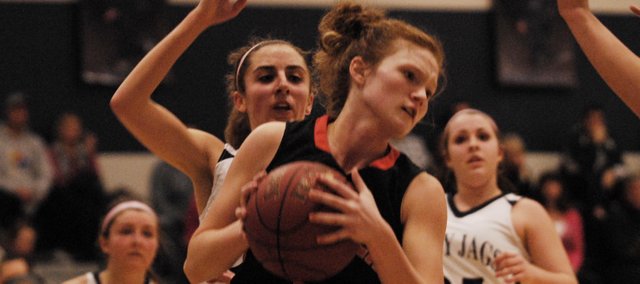 Shawnee — This was more like it. Tuesday's meeting between the Bonner Springs and Mill Valley girls basketball teams felt more like the prizefight between the Kaw Valley League's top programs that it had been in recent encounters.
Mill Valley's 49-46 victory in overtime at home Tuesday was nothing like the Jaguars' 47-21 win at BSHS last month, a rout made all the more uncharacteristic by the way Tuesday's rematch began.
BSHS senior Anna Deegan, who finished with 23 points, scored the game's first 10 points and the Braves kept Mill Valley off the scoreboard until 3:25 left in the first quarter. The Braves (15-3, 10-2 in the Kaw Valley League) also held the Jaguars (16-1, 11-0) without a field goal until 1:31 remained in the quarter. And in that regard, the night began on pace to at least match last year's theme of handing the home team a defeat by a similar margin — the last time the two met, Mill Valley jumped to a 26-7 first quarter lead and never looked back.
"How they came out that first time made it hard for us to play against them," Deegan said. "We just came out with confidence tonight and just kept pushing ball."
The Braves' hopes of knocking off the No. 2 team in Class 5A and securing a share of the KVL lead came down to a tense final 11 seconds of regulation.
Deegan had just cut the Jaguars' lead to 37-35 and the Braves appeared poised to foul to stop the clock when a Mill Valley turnover at midcourt gave BSHS another chance. That chance, however, dissipated with a collision on the sideline and the Jaguars made it a three-point game with another field goal on the other end.
The ball then found itself in senior Haley Hoffine's hands, who until that point hadn't scored all night. This time, she pulled up for what appeared to be the game's final shot, a desperation three-pointer that missed its target. But Hoffine was fouled behind the arc and sent to the free-throw line with just 1.3 seconds remaining, needing every attempt to go through to tie.
Each of her first two shots, taken with a chorus of jeers at her back, sunk through. Her final attempt, the one that mattered most, would have to wait as McFall called a timeout. Still, she sank it, and celebrated after Mill Valley failed to hit a game-winner before the buzzer. Hoffine turned toward Deegan for a half-embrace and Deegan tussled her hair and gave her fellow senior a playful push.
"She's always there when we need her," Deegan later said.
In overtime, Hoffine continued the momentum established at the end of regulation, scoring six more points. She also intercepted a pass and assisted Abrise Sims to tie it at 43-43 with 2:11 left. Hoffine returned the Braves to the lead with a free throw. But it was also at the line on the other end that the Jaguars avoided defeat, hitting 7 of 10 shots. Mill Valley's victory put the Jaguars in control of their own destiny in the KVL title picture with just two games left. The Braves, meanwhile, turn their focus back to finishing the regular season strong before sub-state play later this month.
"We're playing a lot better defense right now," BSHS coach Clay Oakes said. "We don't have anything to hang our heads about — we just went toe to toe with the No. 2 team in 5A."
After the game, both Hoffine and Deegan agreed that the loss built confidence for a team that starts two underclassmen in addition to its two seniors. Also on Tuesday, freshman Julianne Jackson scored seven points and sophomore Kaleigh Taylor added four.
Standing outside the visitor's locker room afterward, Oakes wore few, if any, signs of disappointment, instead opting to think about what Tuesday may signal for the future.
"We've got a lot to look forward to down the line here as far as sub-state is concerned," Oakes said. "If we play like this every game down the line, then we'll probably end up where we want to be by March."