BSHS

boys' season ends with sub-state loss at Tonganoxie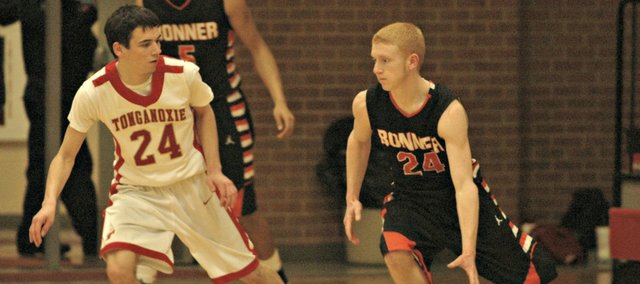 The Bonner Springs boys shrunk a 16-point deficit to four in the second half, but couldn't quite cap off the comeback in a 65-56 loss Wednesday in sub-state first-round action at Tonganoxie.
After falling behind by a 43-27 margin early in the third quarter, the fifth-seeded Braves (8-12) forced three straight turnovers to ignite a 14-4 run that made it a two-possession game. They made it 54-50 midway through the fourth quarter, but the fourth-seeded Chieftains (9-11) answered with a 10-2 run in the final minutes of the game.
"One of the things we talked about all year is, for us to have a chance to win games, we're going to have to play some nitty-gritty basketball," coach Dan Streit said. "The guys got into that mode and showed they've got great character.
"All I ever ask them to do is compete, and they did tonight."
Streit's squad couldn't match its opponent's offensive firepower early on, as the Chieftains penetrated the Braves' zone defense for 25 points in the first quarter alone. The teams played even for the duration of the second quarter, but THS took a 38-27 lead into the locker room at halftime.
"With the layoff and the snow, you don't know how the teams are going to react," Streit said. "They caught us by surprise. Usually, in our 3-2 zone, we make teams struggle."
Logan Terrell led the Braves with 11 points, including three three-pointers. He was the only BSHS player to reach double figures.
The loss marks the end of the Braves' 2012-13 season. It was the final career contest for seniors Terrell, Jason VanMaren, Austen Twombley, Brandon Moore and Tyler Howell.
Score by quarter
Bonner Springs 14 13 14 15 — 56
Tonganoxie 25 13 10 17 — 65
Individual scoring
BONNER SPRINGS — Logan Terrell 4-12 0-0 11, Brenden Dotson 4-7 0-1 9, Jordan Jackson 4-12 0-2 9, Brandon Moore 3-5 0-0 6, Travis Dooley 2-3 0-0 5, Jason VanMaren 2-5 0-1 5, Zshavon Dotson 2-8 0-0 5, Tyler Howell 1-2 2-4 4, Weston Vitt 1-4 0-0 2.
TONGANOXIE — Jack Dale 3-6 11-15 18, John Lean 5-8 1-3 13, Tyler Ford 3-5 3-6 9, Ben Johnson 2-2 2-2 6, Jared Sommers 2-4 1-2 6, Eric McPherson 3-5 0-0 6, Eric Tate 2-3 0-0 4, James Grizzle 0-1 3-4 3.