#BasehorSports 2012 year in review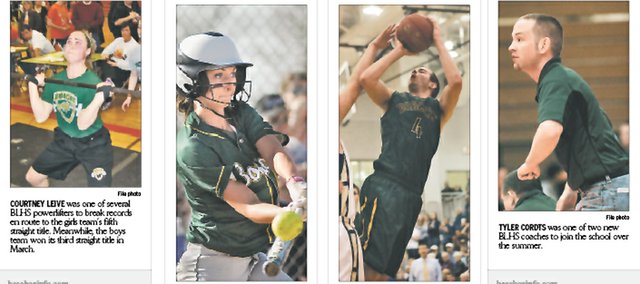 Ben Johnson standing atop the scorer's table in Salina, arms outstretched and facing the Basehor-Linwood fan section at once signaled the start of a 2012 filled with Basehor sports highlights and also capped the year's finest evening.
From the boys basketball team winning its second Class 4A state title under coach Mike McBride to Susan Mayberry's softball team placing third in a loaded state tournament bracket, it was a sports year well worth remembering. These stories are not ranked, but instead appear in chronological order.
Join us in looking back on the year that was. Did we miss anything? Add your own memories by using #BasehorSports on Twitter, commenting on basehorinfo.com or at facebook.com/thebasehorsentinel.
Powerlifting titles keep piling up
The BLHS boys and girls powerlifting teams maintained their stranglehold on the 4A state championship scene after another — for lack of a better term — strong season.
The girls team won its fifth straight title and the boys followed with a third straight title.
For the girls, Courtney Leive, Katey Trower and Mallorie Belk all set new state records at the March meet in Abilene. Leive set a state record with her 175-pound hang clean and also placed first with a 255-pound squat. Trower set a state record with a 160-pound bench press and added a 250-pound squat. Belk's 195-pound hang clean was also a record. Five boys lifters finished first overall: Jonathan Oliva at 114 pounds, Eric Purrington at 123 pounds, Russell Clark at 132 pounds, Deric Brannan at 148 pounds and Trevor Hickman at 220 pounds.
What we said then: "Heading into the meet, (coach Ross) Schwisow said he set a goal of having five boys hang clean more than 300 pounds. Come Saturday, seven recorded hang cleans of more than 290 pounds.
'It's just phenomenal for high school kids,' he said."
What's ahead in 2013: The season begins on Jan. 12 against McLouth. Expectations will be high as always with plenty of opportunities for lifters to replace last year's senior contributors.
Bobcats complete hoops title run
The 2011-12 boys basketball season began with as high of expectations as ever for McBride's Bobcats, who since winning the 4A state title in 2009 had failed to return to the tournament the following two seasons.
After a wakeup call against Topeka-Hayden early in the season and a frustrating league loss to Lansing in January, the Bobcats (23-3) avenged those losses — and a third to Ottawa — en route to returning to glory.
After winning a state championship as freshmen, seniors Ryan and Colin Murphy — who each passed the 1,000 career points milestone in January — finally had the chance to lead a title run of their own. Along the way, as the Bobcats avenged all three of their losses — Lansing to clinch the Kaw Valley League title, Hayden to win sub-state and Ottawa to win it all — the Bobcats also received major contributions from then-sophomore guards J.P. Downing and Chase Younger, senior Brad Waterman and Johnson, who was tasked with guarding Duke University commit Semi Ojeleye in the title game.
McBride's hand in all this didn't go unnoticed: He was recognized as the Kansas Basketball Coaches Association's coach of the year.
What we said then: "The end of an era is an easy starting point for this story, but this game's outcome wouldn't have been possible without the play of sophomore guards Chase Younger and J.P. Downing.
Younger led the Bobcats with 18 points in the championship game, and Downing — playing with a busted lip — came up with the decisive block as time expired."
What's ahead in 2013: Without the Murphy twins and with Johnson on the shelf resting a knee until after winter break, the Bobcats began the season 4-1 and are one of just three teams still unbeaten in KVL play. Younger has exploded for 39 points and 30 points on separate nights. Junior Tim Sanders has a 27-point game and freshman Jahron McPherson has shown flashes of the big-play ability McBride envisioned when he elevated him to varsity before the season.
Softball returns to state
The BLHS softball team placed third in a Class 4A bracket that featured an average win-loss record of 22-1 among the top seven seeds in Salina in May.
Senior Brooke Redmond, now at Upper Iowa University, capped her career with her 26th straight complete game of the season, recording 29 strikeouts in the tournament.
Redmond, who played in the MO-KAN Softball All-Star game over the summer, wasn't the only Bobcat to conclude her high school career in Salina: Hannah Tush is now at Eastern New Mexico and was the BLHS female athlete of the year in 2012. Olivia Cowan and Kortney Rist also concluded a tenure that included a 2009 state championship.
Mayberry was recognized in July when she was selected to be honored as a Buck O'Neil Legacy Seat recipient at Kauffman Stadium.
What we said then: "Redmond especially came through against Wamego (in the state tournament), striking out 13 batters as the No. 7-seeded Bobcats upset the No. 2-seeded Red Raiders in the tournament's first round. On Saturday, despite the lopsided score against De Soto, Redmond still struck out 10."
What's ahead in 2013: Although they must replace four seniors in 2013, six BLHS stalwarts return with visions of an even deeper postseason run. Alison Kasick, Courtney Leive, Candice Jennings and Kori Nichols will be among those seeking to author the latest chapter in the history of one of the school's strongest programs.
Volleyball's turn in the spotlight
In just her second season as BLHS volleyball coach, Amy Irvin led the Bobcats to its first state tournament appearance. The Bobcats were balanced by four seniors and four underclassmen. Senior Brandi Stahl, who will compete at the College of the Ozarks next fall, was selected to compete in the Greater Kansas City Volleyball Coaches Association's all-star game in November.
What we said then: "The Bobcats — led by seniors Brandi Stahl, Jamie Johnson, Haley Waters and Samantha Rutherford — downed Lansing to secure second place in the Kaw Valley League on Oct. 16 before heading to Tonganoxie, where they captured the program's first sub-state title on Oct. 20. Though the Bobcats failed to make it out of the first day of the tournament on Oct. 26, their season did not go unnoticed."
What's ahead in 2013: With their first state tournament berth behind them, six Bobcats return to lead BLHS on its way to competing in a difficult KVL landscape. Hailey Robinson and Allison Heinen will be seniors and underclassmen Abbey Mellies, Jamie Weible, Courtney Robinson and Madi Osterhaus will be tasked with filling the void created by BLHS' four seniors' departures.
New faces
BLHS athletic director Joe Keeler added two new coaches to the Basehor sports community over the summer, replacing the departed girls basketball coach, Noah Simpson, and former wrestling coach Ed Seaton, who stepped down to assistant coach status. Jason Tatkenhorst took the reigns of the girls basketball program after coaching 16 years between stints at Clay Center and Great Bend, where he compiled a 228-128 record and won eight straight league titles. Meanwhile, Tyler Cordts returned to BLHS after having competed in the Bobcat Classic as a high school wrestler at Santa Fe Trail.
What we said then: "Tatkenhorst said he'd classify himself as a defensive-minded coach. Through 16 years of coaching — his first four years were spent at Clay Center — Tatkenhorst compiled a 228-128 record, won eight-straight league titles and helped develop a host of future college players. Among Tatkenhorst's former understudies was Nicole Ohlde, who would continue her career at Kansas State University and in the WNBA.
…
When Tyler Cordts was a 103-pound wrestler at Santa Fe Trail High School, he said the annual Bobcat Classic was always among the season's highlights.
'It was so exciting because that was the tournament to be in,' Cordts said. 'The competition level was so high and it was so well-run. It's just a great tournament.'"
What's ahead in 2013: Tatkenhorst's Bobcats entered winter break 3-3 (3-3 in league play) behind standout performances thus far from Jamie Johnson, Victoria Smith and Amber Garver. The wrestling team has so far shown marked improvement under Cordts, placing five and six wrestlers, respectively, in separate tournaments in December.