#BonnerSports 2012 year in review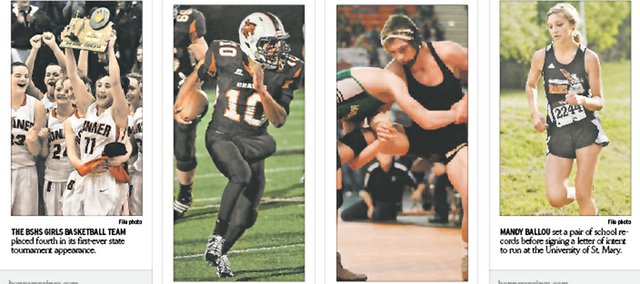 What 2012 Bonner Springs graduates Yessenia Hernandez, Erin Marx and Erica and Emily Wilson left behind remains on the court during Bonner Springs girls basketball games.
Under coach Clay Oakes, who won his 200th game last season, the Braves reached their highest point yet in 2012, placing fourth at the 4A girls basketball tournament.
The girls are again off to a hot start, going 5-1 before winter break and having avenged their only loss. Meanwhile, other BSHS programs continued to excel. Last year featured a host of all-time best accomplishments, memorable games and the dawn of new eras with coaching changes. Join us as we take a look back before getting back to work seeing what 2013 has to offer. These stories are not ranked, but instead appear in chronological order.
Did we miss anything? Add your own memories on Twitter by using the hashtag #BonnerSports, comment online at bonnersprings.com or find us on Facebook at facebook.com/thechieftain.
Wrestling third at state
Five Braves medaled at the Class 4A state wrestling tournament and the Braves placed third overall in Salina in February. Jonathan Blackwell (145 pounds) and Mark Hobson (152) each placed second to lead the Braves, and Josiah Seaton (fourth place, 120 pounds), junior Aaron Puckett (fourth place, 160 pounds) and junior Jared Clements (third place, 170 pounds) helped the Braves accumulate 92.5 total points. The Braves returned Blackwell, Puckett, Josiah Seaton and Justus Seaton — all four of whom entered 2012 ranked individually by the Kansas Wrestling Coaches Association, which also ranked BSHS second in Class 4A — to a team with grand visions in 2013.
What we said then: With several of his state qualifiers returning to the mat next season, (coach Brandon) Jobe admitted there is plenty to be excited about in 2012-13. However, the Braves' head coach is in no hurry to look past what his squad achieved this season.
'You always look forward to the next year and try to plan ahead,' he said. 'You want to be good for a long time, but right now, I want to praise these guys. This is a huge, huge accomplishment, and I want to enjoy it right now.'
What's ahead for 2013: Blackwell, Puckett and the Seatons — deemed the "Fab Four" by Jobe have helped lead the Braves to a strong start to the winter season. Things will pick up considerably Saturday with the annual Dick Burns Classic at Bonner Springs.
Girls hoops' dream season
The BSHS girls basketball team clinched a share of the Kaw Valley League in 2012, jumping out to a 15-0 start and advancing to its first state tournament in March.
The Braves advanced to the semifinal game, where eventual state champion, McPherson, handed BSHS a 49-40 defeat. In the tournament's third-place game, the Braves fell just one point short, missing a go-ahead three-pointer at the final buzzer. Still, the bittersweet moment was made more palatable with perspective: No BSHS girls basketball team had ever made it this far. Then-juniors Anna Deegan and Haley Hoffine, two of the Braves' top contributors in 2011-12, would return for a final shot at adding to their class' legacy.
What we said then: "After she was helped up off the court, after the Braves accepted their fourth-place medals with the look of having swallowed a spoonful of purple cough syrup, Hernandez' jersey was buried under the grey hooded sweatshirt she wore as she exited the locker room.
The disappointment behind her, she smiled. How could she not?
'I've been working for this my whole four years,' she said.
The Braves had just concluded their first trip to state. Afterward, coach Clay Oakes called the girls the class that set the standard for all those that will follow."
What's ahead in 2013: The Braves are again off to a hot start albeit in different fashion than a year ago: Deegan and Hoffine lead a younger, faster team expected to again contend for the KVL title and perhaps more.
BSHS alum Jaynes a hall-of-famer
David Jaynes, the former BSHS quarterback who went on to considerable success at Kansas University, was inducted in October into the Kansas Sports Hall of Fame. Jaynes was among nine inductees in a ceremony in Wichita and was remembered for a decorated KU career that included 5,132 career passing yards, 34 touchdowns and a trip to the Liberty Bowl.
But before Jaynes could make it that far, he put himself on the radar of college coaches — including the legendary Alabama coach, Bear Bryant — when he starred as the Braves' signal caller.
What we said then: "But before long David Jaynes is choked up, reliving one of the earliest, most pivotal memories he associates with the game. In the story he's telling, he's a 15-year-old Bonner Springs High sophomore again, years away from setting passing records at Kansas University, decades away from living happily and comfortably on the west coast.
'Hang on a second," he says, his voice cracking.'"
What's ahead in 2013: Jaynes occasionally visits the area, but spends most of his time in California or Colorado. He did, however, express openness to talk shop with the Braves' latest quarterback, Jordan Jackson, who figures to enter his senior season with much left to prove after 2012's 3-6 finish.
Overtime thriller
At first, junior Jordan Jackson appeared to have broken the plane on fourth-and-goal in overtime at Piper on Sept. 21. That is until he didn't.
The quarterback — who, up until that point, had led the Braves to a 3-0 start, shouldering much of the load in the process — lunged forward, down 29-23, only to be pushed backward in the final image of an instant classic.
The BSHS football team wouldn't win again that season, finishing 3-6. But coach Lucas Aslin's team did log a second overtime thriller — a 17-16 loss to St. James in district play — and will enter 2013 perhaps more battle-tested in such scenarios than the bulk of their opponents.
What we said then: "Still wearing his helmet, Jackson left the post-game huddle filled with whatever emotion wasn't already pouring out of him. Coach Lucas Aslin grabbed Jackson in an embrace as he tried to bring him back down to earth.
'He was the reason we were in the football game,' Aslin said after Jackson turned and walked toward his parents, waiting for him past the end zone."
What's ahead in 2013: Jackson will lead a 2013 senior class starving for a chance to improve on a disappointing 2012. Aslin has overseen a Bonner Springs football community that experienced plenty of success from the youth level all the way up to junior varsity. That, coupled with a growing summer strength and conditioning program, should return BSHS to competing in a deep KVL.
Ballou, Kimbrough-French cap careers
BSHS senior T.J. Kimbrough-French returned from an early season injury to join junior Austin Schuler in helping lead the BSHS boys cross-country team to the state tournament in October. And although the girls team didn't qualify, senior Mandy Ballou — who committed to the University of St. Mary last month — set a new school record on two occasions.
What we said then: "'We're talking about a kid that's gone to state the last two years from one of the toughest regionals in the state,' Downing said.
In each of the last two seasons, Kimbrough-French earned the final state qualifier, with an 18:12 in 2010 and a 17:38 in 2011."
What's ahead in 2013: Schuler — who also played soccer and suited up as a kicker in the fall — returns with an eye on an even better season to conclude his BSHS running career. Meanwhile, expect a continuation of the turf war at Wyandotte County Park between the Braves and rival Basehor-Linwood.
The beginning of new eras
BSHS athletic director John Hilton welcomed new volleyball coach Jan Madlock and swimming coach Preston Williams this season. And after BSHS boys basketball coach Andy Price resigned, assistant coach Dan Streit was elevated to the top position. Madlock, who advanced to the Sweet 16 as a player on the 1992 Illinois State University team and has coached at several college and high school programs, including Kansas University, brought a new attitude to a young team. After a slow start, the Braves stuck together to finish 16-20, winning the Wyandotte County Invitational in the process and 10 of their final 12 matches. Meanwhile, Williams took over a swim program of which he was already familiar. Williams has been a fixture in the community, teaching classes at the Bonner Springs YMCA.
What we said then: "With the Braves' strong conclusion at the end of the season, Madlock said she is already thinking about next season and the momentum established for the program after her first year.
'I have a passion for life and it's displayed when I coach,' Madlock said. 'That passion comes from how I felt about the game.'"
What's ahead in 2013: Expect a stronger start to the 2013 season by a more-seasoned volleyball team. With Basehor-Linwood on the rise, Mill Valley dominant and Lansing a perennial contender, the Braves will have their hands full vying for a top finish in league play.
Meanwhile, Williams' boys team notched its first victory in Osawatomie just before winter break while Streit is still seeking to develop chemistry on a team that lost four straight entering winter break.