Tonganoxie resident's barbecue team appearing Sunday on Pitmasters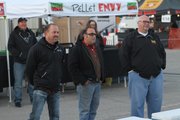 Truebud BBQ outcooked hundreds of competitive barbecuers last year, but will the local team be able to smoke its competition on national TV?
Find out this weekend, when the Kansas City episode of BBQ Pitmasters premieres on TLC's Destination America.
Truebud BBQ — with its meticulous pitmaster Tim Grant of Tonganoxie and more laid-back teammate Boyd Abts of Eudora — competed almost every weekend in 2012 and rose high in the ranks of the Kansas City Barbeque Society's Team of the Year points chase before being asked to appear on the show.
Truebud will face Pellet Envy, led by Rod Gray of Leawood, and the Grinders Team, led by Kansas City, Mo., metal sculptor and restaurant owner Jeff Rumaner, who goes by "Stretch." Pellet Envy was Kansas City Barbeque Society Team of the Year in 2009. Stretch isn't on the competitive circuit, but he's a pro at backyard "swine and dine" parties and his restaurant is a Kansas City favorite.
The teams cooked pork spareribs and burnt ends for the Pitmasters competition and filming, which took place on the grounds of the American Royal Barbecue, the first weekend of October in Kansas City, Mo.
Grant and Gray take their barbecue very seriously, the show's producers tease, but will they be fooled by the colorful and creative restaurant owner, Stretch? Watch the episode, "Royal Ribs and Burnt Ends," on TLC at 8 p.m. Central time Sunday.