Allegro choirs celebrate banner year
Choir invited to perform at White House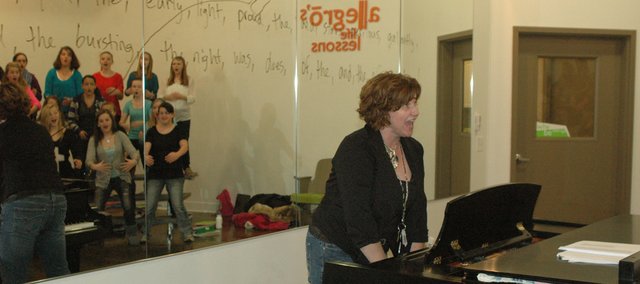 It was a big year for the Allegro Choirs of Kansas City.
It started with yet another search for a new rehearsal space due to the choir's growth, culminating in the choir finally locating in its own building in downtown Bonner Springs. Then in the spring, the choir got the chance to perform at Carnegie Hall in New York City. In the fall, the choir's permanent facilities allowed it to finally add a young men's choir, for older boys with changed voices.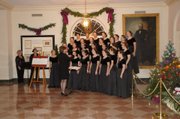 And the culminating event — in early December, 27 choir members traveled to Washington, D.C., to perform at the White House during a private reception.
Each of these items were things on what Christy Elsner, the choir's founder and artistic director, calls her "bucket list" of accomplishments for the choir.
"For one year, to cross all those off… It's like, 'OK, well, now, we can dream bigger," she said.
The accomplishments of 2012 are just part of Allegro's notable performances since it was founded in 2000.
The choir has performed in such places as the Meyerson Symphony Hall in Dallas, Canterbury Cathedral in England, and St. Peter's Basilica in Vatican City.
"Who would've ever (thought)," Elsner said, reflecting on the choir's travels. "We've done things and been to places you only read about."
Elsner said she "got the bug" to create a children's choir while a student at Kansas University, where she earned her music education degree, serving as an accompanist for the Lawrence Children's Choir.
She said she knew creation of a choir could allow singers some opportunities they wouldn't be able to find elsewhere.
"I grew up in a small town, and I always laugh because I say, there was nobody in town that played a stringed instrument, and when we toured, we toured to Kansas City," Elsner said. "I just thought, here I can give all these things I never got to experience."
The choir, which takes its name from the Italian word meaning "quick and lively," started with 38 members. By 2005, it had grown to 150 members with three different choirs.
Now, Allegro has more than 200 singers in five different choirs grades two through 12, drawn from as far away as Liberty and Gladstone. Allegro has done very little self-promotion, growing largely thanks to word-of-mouth — proof positive that young singers in the area were looking for just such a group.
"The school music programs around here are very strong, and they do wonderful things, but there's a limit to how much (they can do)," Elsner said. "And there's always that kid that just wants one more taste, wants something different or wants that to be their focus for their time and energy."
While members must audition for most of the choral ensembles, and Kim Stout, Allegro's outreach coordinator, said the expectation for Allegro's singers is set higher — each ensemble learns three to four times more songs each year than the typical school choir. But the choir's staff often say that what they teach is 80 percent character development.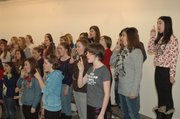 "It's not just about the singing here," Stout said. "I say that to any parent who walks through the door. I think Allegro is about being excellent in everything you do, which is Christy's motto, and she instills that in every kid from the day they walk through the door."
Each year, the choir aligns itself with a charity that is focused on serving children and choir members do fundraising drives and volunteer work.
The choir members also benefit from the experiences they receive traveling with the choir. Elsner said three alumni came to a recent concert, and all were planning to study abroad.
"All their moms said, 'We're not worried; they've traveled with Allegro, they know how to be safe,'" Elsner said. "I just thought, 'Oh that's so neat, they're all going on new adventures.'"
The choir's new home in Bonner Springs was all a matter of timing. Elsner said the choir has constantly been looking for permanent facilities all over the metro while renting rehearsal space from churches or schools.
A year ago, the choir's growth caused them to start a facility search once again. The Cathedral of the Immaculate Conception in Kansas City, Mo., asked Allegro to be its choir in residence, but there were concerns with the downtown location.
"It wasn't conducive for traffic, for families, for young drivers, and parking was an issue," Elsner said.
Allegro had been basing some of its administrative functions out of the downtown Bonner Springs office buildings owned Elsner's husband, Sean Elsner, who also is president of Infusion Design in downtown Bonner. He told her that the Mexican restaurant Freseros had recently closed, and the corner building at 228 Oak Street had more space than one might think.
It took some major reconstruction, including cutting through 3.5 feet of concrete to create better basement access in the building that started out as a service station and then a car dealership. But it turned out to be a good fit, with room for expansion that the choir is already planning to make use of.
In addition to allowing for the creation of the young men's choir, Allegro Con Spirito, the choir hopes to expand in other ways thanks to their new home: offering private voice and piano lessons, a summer camp, summer choir for alumni, and a chamber orchestra for high school students that could accompany the choirs as well as have their own performances.
The penultimate accomplishment for the choir in 2012 was its performance at the White House, though it came as somewhat of a surprise. Elsner said they only recently have received clearance to discuss their experience and share photos.
The choir applied to perform at the White House early in the year, but when they didn't hear a response, they didn't alter their schedules, Stout said. Then, on Nov. 14, they were contacted and given a performance date of Dec. 4.
Told they could bring 25 members, they got permission for 27 of the Allegro Con Brio high school group so they could bring all of the juniors and seniors. That group practiced their a capella songs an extra two hours and 45 minutes each week leading up to the trip.
At the White House, they sang during a private reception hosted by the President and First Lady, though the choir wasn't told who guests were at the reception for security reasons. They received a private tour before they sang for an hour and 45 minutes as guests entered the reception.
Then they were taken to the diplomatic receiving room attached to Oval Office to meet the President and First Lady and since for them.
"They both shook hands and personally spoke with every single girl," Stout said.
Chloe Stewart, a senior at Mill Valley High School, blew the pitch pipe before the choir began to sing.
"When I blew the pitch, Mr. Obama looked right at me, and we made eye contact for three seconds and he kind of nodded," she said. "It was kind of a cool moment to share."
The choir then sang as guests exited the reception.
The next day, they were able to tour the capitol, visiting the Smithsonian and Holocaust museums and monuments and singing in the Senate after visiting Sen. Jerry Moran's office.
With these impressive performances under their belts, the choir members have trips planned to Chicago and Los Angeles this summer.
And still on Elsner's bucket list: arranging performances in Africa and Australia.