Puckett wins Bobcat Classic in final two seconds of O.T., Braves place eighth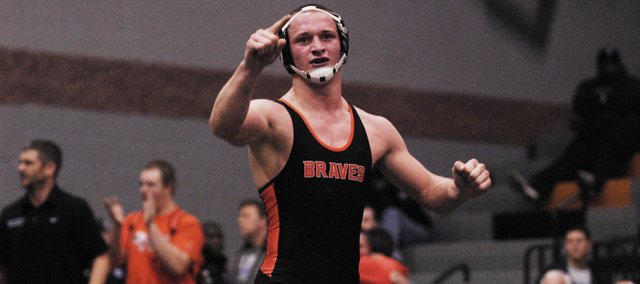 Photo Gallery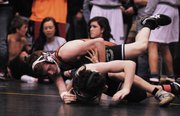 2013 Bobcat Classic
The 13th annual Bobcat Classic wrestling tournament took place Friday and Saturday at Basehor-Linwood, featuring 36 teams and some of the region's top-ranked wrestlers.
It came down to this: The top two 160-pound wrestlers in Kansas Class 4A also became the final two left in a grueling Bobcat Classic bracket at Basehor-Linwood on Saturday.
Three rounds — and all but two seconds of the first overtime — wouldn't be enough.
BSHS senior Aaron Puckett (23-0) locked in a front headlock on Andale senior Kyle Armstrong (21-2), desperately trying to break a 1-1 tie as the first sudden-death overtime neared its close. Then, with two seconds left, Puckett executed the winning two-point takedown. The affirming whistle arrived barely before BSHS coach Brandon Jobe and nearly every black- and orange-clad spectator leapt from their seats.
"Those last two seconds I had my mind on getting his leg hooked and getting behind the arms," Puckett said between posing for photos afterward.
In his last attempt, Puckett finally left the Bobcat Classic a champion, adding that to the Lee's Summit Tournament title won earlier this season, both of which loomed heavy on his mind.
"He won it because deep down he had to have it," Jobe said. "It was all heart."
Puckett became one of four Braves to finish in the top three of their respective classes and BSHS placed eighth in the 36-team tournament — a program-best finish, Jobe later said.
Pitted against some of the region's top programs, Jobe left the tournament's 13th iteration pleased with how the Braves placed alongside multiple programs that don't need to rely solely on home-grown talent.
If on Saturday, Puckett's ecstasy arrived by the slimmest of margins, the Braves also experienced other agonies in similar fashion.
With inclement weather approaching the paths many of the out-of-state teams would later be traveling, the tournament's championship matches were contested two at a time. As it happened, that put BSHS junior Josiah Seaton and senior Justus Seaton out front at the same time in the title match of the 106-pound and 113-pound brackets, respectively.
As St. James freshman Stephen Tujague sealed a 5-2 victory against Josiah Seaton (18-2), Justus Seaton (19-3) was just seven seconds from claiming a 1-0 victory against Turner junior P.J. Cheney, whom Jobe said had defeated Seaton a half dozen times over the years. But just before the whistle, Cheney eked out the winning two points.
"I thought (Justus) wrestled 5:53 of a great match," Jobe said, "but in the last seven seconds he just hung on instead of improving his position."
BSHS senior Jonathan Blackwell avoided a similar fate in his first match of the 152-pound bracket on Friday. Blackwell edged Free State senior Ben Soukup, 2-1, to advance in a bracket that featured four state champions.
In lockstep with Puckett on the path to add a coveted Bobcat Classic championship to his resume in his final season, Blackwell fell short against an all too familiar foe. Mountain Range (Colo.) senior Randy Boerner (30-1) — who had also defeated Blackwell in the pair's third-place match at last year's Bobcat Classic — earned a 5-3 decision against Blackwell late Friday. On Saturday, however, Blackwell stormed back with a pair of decision victories, the last a 14-4 win against Junction City's Jeryl Denton (22-2), to place third and improve to 22-1.
Jobe cited Blackwell not cutting weight properly as one of the chief reasons for Friday's elimination from the championship bracket. However, with a better approach on Saturday, Blackwell returned to form as one of the bracket's top grapplers.
"He looked like the Jonathan Blackwell I know," Jobe said.
Blackwell's fellow senior, and close friend, Puckett also thought the 152-pounder's performance Saturday signaled what to expect from the rest of his season.
"Johnny's a tough kid and one of those kids who takes a loss and puts it toward working to get better," Puckett said.