Award winner uses theatrics to engage students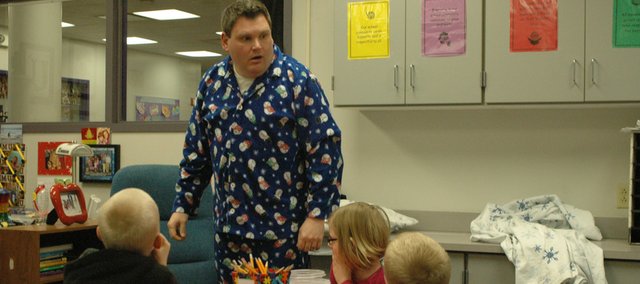 On a Wednesday morning in Jason Utlaut's first-grade class, he is "asleep" on top of a cabinet.
Decked out in pajamas, with a pillow and blanket, students watch and he rises and acts out a silent scene in which he discovers it has snowed overnight and goes outside to play in the snow. He then gets the students to recall various details of the story he acted out in a lesson in storytelling and using visual clues to decipher events in a story.
Utlaut says it is all part of his mission to engage his students in their lessons every day. Typical lecture lessons can't compete with the iPads and other technology his students are used to using outside of the classroom.
"So that's why I make a fool of myself — but it works," he said.
Utlaut learned Thursday that he was named one of 32 teachers in the state to receive the Kansas Horizon Award for first-year teachers.
Teaching is a second career for Utlaut, who worked for Enterprise Rent-a-car after earning a degree from Central Methodist University. But he said he never felt his job was something he wanted as a career.
Eventually, he gave into the "harping" of his mother, who was a kindergarten teacher in his home town of Waverly, Mo. She often told him he needed to try teaching because she thought he'd really like it, so he signed up to be a substitute teacher.
"About 10 minutes into my first sub job, I knew I'd found what I wanted to do," he said. "I just loved it right away and just knew that, as usual, Mom was right."
But it took some time for Utlaut to determine what grade level he wanted to teach; that first substitute job was in a high school special education class. He tried subbing middle and high school but eventually decided he liked the elementary grades a lot better.
"I think you can see a lot more growth at this age than you can at the high school level," he said. "I really like teaching social skills — learning to get along, how to ask for something, communication skills."
Utlaut was offered paraprofessional position in Platte City in a behavior disorder classroom for third- to fifth-graders, and later became a one-on-one paraprofessional at the elementary level. It was about his third year as a paraprofessional that he began taking evening classes to get his teaching license.
Utlaut student-taught at BSE in kindergarten with Kylie Bowling, who is no longer with the district but whom Utlaut credits with helping him earn the Horizon Award.
After six months in another paraprofessional position in Olathe, he was hired for the first grade position in Bonner.
Utlaut started off in college as musical theater major, and as a teacher, he has made use of that experience to make an impression in the classroom.
"I love to wear costumes, I love to do voices, I love to get the kids to do different skits," he said.
For example, when he teaches a lesson about petting dogs, he comes to school with his arm wrapped in gauze — and he won't tell the children right away why his arm is like that. Only after the school day begins does he tell a story about being bit by a dog.
"So right away, they're interested, they're engaged," Utlaut said.
In October, he also acts out the stories found in the "Ready Freddy" series book "The Pumpkin Elf Mystery."
In the story, when students are good, they get treats; when they are bad, weird things happen to classroom. So in response to bad behavior, the elf has removed all desks from classroom or removed all pictures from the wall.
"I have just as much fun with it as they do, just seeing their expressions," Utlaut said of his students. "And the best part is, they're excited to come in the next day. It's just a really, really fun and kind of dramatic way to get the first-graders excited to come to school."
Utlaut was nominated by USD 204 Superintendent Robert VanMaren and received the help of BSE's grant-writing committee to compile the seven different essays and letters of reference required for the nomination.
He said earning the award was a little overwhelming, but it also was nice to have his efforts recognized.
"I put in a lot of time with this job," he said. "I'm a guy who is obsessed about 'How can I keep the kids talking about what they did today and keep them excited about coming back tomorrow?'"