BSHS

girls pick up league road win at Piper on Wednesday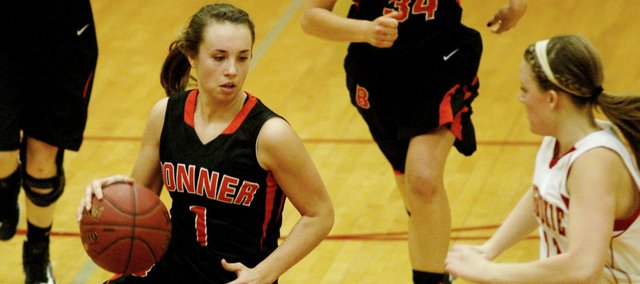 The old adages of basketball being a game of runs and those runs being contagious stood true in a battle between Bonner Springs and Piper on Jan. 16.
Piper bolted out to an early seven-point lead in the first quarter before BSHS went on a run to take the lead for good in a 55-43 victory.
The Braves (9-2, 6-1 in the Kaw Valley League) had a commanding 10-point lead with 2:31 left in the first half, but a 9-0 run by the Pirates cut the lead to one at the break.
"That's what we talked at half," head coach Clay Oakes said, "we talked about how we came out and took care of the ball and it was going to be tough for them to stop us. We felt like we had them down and had a chance to put it away in the first half, but we let them back in it and gave them a little fuel."
What led to Piper getting back into the game was BSHS not taking care of the ball. It turned the ball over three times on its final five possessions, all which led to Piper points.
Oakes said his team is going to have turnovers because of how fast it gets up and down the court. He said the Braves needed to know when to push it and know when to slow it down.
"That's been our Achilles heel," Oakes said. "We'll go out and play well for four minutes and then we'll turn around and play real bad for four minutes. We need to be more consistent in playing a complete game and not having those big, long stretches."
The Braves wanted to come out of the locker room strong and build the lead they had back up and did exactly that. The Braves outscored the Pirates 13-3 in the third quarter with Haley Hoffine, Anna Deegan and Julianne Jackson all scoring four points in the quarter. Oakes challenged Hoffine to put up more shots and become more of an offensive threat in the second half. She did by scoring 11 of her 15 points in the half. He said Jackson continued to secure offensive rebounds as well as running the floor and scoring easy buckets in transition.
Jackson scored 15 points each, and Deegan added 12.
Coming together for a cure
When the BSHS boys and girls basketball teams return home to play host to Turner on Tuesday, the two communities will also join together for a cause. The game will be the annual Coming Together for a Cure night, which will be preceded by a two-hour chili feed and cinnamon roll dinner to raise money for the Haley Bernard's family. Haley was diagnosed with Leukemia in October.
The $5 dinner will take place from 5 p.m. to 7 p.m.