City looks to alter dangerous dog laws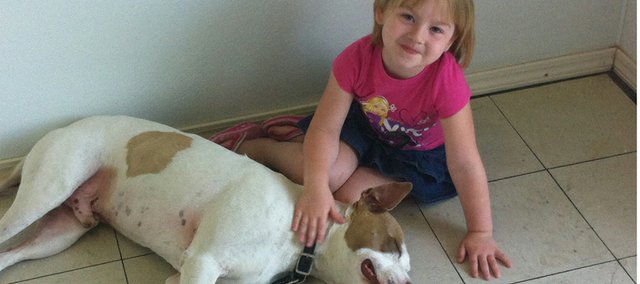 Debi Baker says her family's dog, Titan, is best described a "just a big baby."
Titan came to her home in Bonner Springs two and a half years ago when her daughter and two grandchildren moved in. Her daughter had adopted him six months prior to that at a shelter that listed his breed as a terrier mix.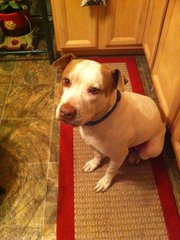 So she was surprised in May when the city's animal control officer told her that because Titan resembled a pit bull, a breed outlawed in the city, he had to go. Baker said she knew some cities in the area had laws banning pit bulls, though she didn't realize Bonner was one of them.
"But it really never sank in because we never really thought of him as a pit bull," she said. "And then, all of a sudden, one day, whammo. And you start really feeling sorry for people who have pit bull pets who have been treated this way. You know, it's not the pet, it's the owner."
That's why Baker went to the Bonner Springs City Council last month to ask them to change their ordinances to ban dogs based on behavior, not breed, to protect the community from all dangerous dogs. After reviewing the matter, the council agreed and last week assigned a task force to study the issue over the next month.
Currently, the city ordinances prohibit ownership of dangerous animals and describe various breeds of dogs, like pit bulls, that are considered to be dangerous. It also prohibits ownership of "any dog which has the appearance or characteristics of" a pit bull or other prohibited breed.
This is why Titan was told to leave in May. The Bakers allowed Titan out in the front yard, rather than the fenced back yard as usual, because he had hurt his paw and they didn't think he would try to take advantage of a little freedom. When he did make a run for it, Debi Baker said they weren't worried — the only other time he got loose, he came home within five minutes.
But a neighbor who didn't know Titan called animal control, who told the Bakers that he'd have to leave the city within 15 days.
The Bakers were shocked. They also own a bull dog mix who is the "barker" of the household, whereas Titan is the laid-back dog who is completely unaggressive.
A co-worker knew of someone who finds homes for dogs, who connected the Bakers with Cheryl Buell, a local dog activist, and Katie Barnett, a Lawrence lawyer who often lobbies cities for a change from breed bans to dangerous behavior dog laws.
They told the Bakers about a long-term boarding facility in Lawrence that could take Titan and suggested the family have DNA test done on Titan. The test, by the way, found that Titan is predominantly a Staffordshire Terrier, a breed very similar to a pit bull, mixed with a lot of other breeds.
It also was recommended that the Bakers ask city council to consider creating a better dangerous dog law, so Debi Baker did just that last month.
In response to Baker, city staff reported that Bonner's law was put into place at a time when several area cities, like Kansas City, Mo., made the decision to outlaw breeds considered dangerous. They noted reports that pit bulls are responsible for a majority of dog bites reported in the country.
But Council President Tom Stephens said he supported a change because it's not the first time that someone has asked the city to change the law. He said he did some of his own research, finding a book the discussed how various dog breeds have been demonized throughout history.
"Sometimes we get a false sense of security if we look at a breed and say 'That breed is the problem, so if we make a law banning it, we'll be O.K.,'" Stephens said.
The city also received information from the KC Pet Project, which cited statements from organizations such as the American Veterinary Medical Association, the Center for Disease Control and the Amercan Bar Association, all opposed to dangerous dog laws targeting breeds.
With the support of most council members, Mayor Jeff Harrington last week appointed a task force to study the matter and suggest a new ordinance. The task force was to meet for the first time today at 6:30 p.m. at City Hall.
Baker is thankful for the response; she said the council and city staff "have been nothing but gracious and supportive." The family continues to pay for Titan's boarding in Lawrence, but Baker says "it's well worth it if we can not only help him but help all other dogs that get the stigmatism because of their breed."
"I'm just really thankful for the people that we've had behind us, supporting us," she said. "And there's just that ray of hope that we'll get Titan back."