New
BLHS

soccer coach wraps up weeklong girls camp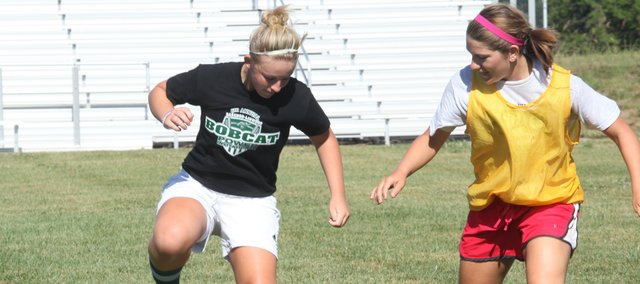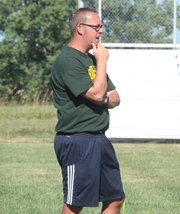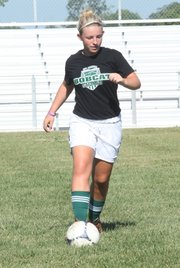 The day before classes dismissed for the summer at Basehor-Linwood, the school's newly hired boys and girls soccer coach, Erik Jones, was able to gather with players from both teams.
He knew the transition from boys coach Austin Knipp and girls coach Derek Mazeitis would be difficult for each program's seniors, so he looked forward to spending a week with each team in a pair of camps that concluded on Friday.
Friday marked the end of a weeklong girls camp, held each morning on the school's soccer field. As the football team squeezed in its own final practice up the hill — July 19 was the final day Kansas coaches could spend with student-athletes before fall classes begin — Jones looked on as about a dozen girls participated in scrimmages and shooting drills.
Jones is early enough in his tenure as new BLHS soccer coach that he still has trouble confusing names like Kaylie with Kylie, but long enough to notice a buy-in by each of his teams' senior classes.
"If they're buying in, it really sets the tone for the next group," Jones said.
Jordan Nirschl, who is one of the Bobcats' returning seniors on the girls soccer team, concluded on Friday that each BLHS soccer program will be headed in a new direction.
"I think he's really going to build a team," she said. "He has different expectations — a lot higher — and our work rate's going to be a lot higher, I think."
What Nirschl expected to be asked of her team to give this season has so far been met, as far as Jones is concerned.
Although numbers dwindled late in the week because of a host of factors — BLHS' strength and conditioning program also met in the mornings, Robinson left for an out-of-state volleyball camp and another girl had wisdom teeth removed — the core that remained by week's end still gave the former St. Thomas Aquinas assistant coach room for optimism.
"I'm very lucky," Jones said. "This is a really good group of kids. Their work rate has been awesome. It's as good as any I've been around."
The girls will seek to improve on a 4-11 2013 season in which, as Nirschl put it, "everything just kind of fell apart."
Numbers have been one hurdle the program has faced in recent years, something Jones intends to ameliorate with more youth participation in the community. But nothing could prepare for the April loss of freshman Shealyn Hayes in a traffic collision.
Nirschl said a few teammates weren't yet ready to resume soccer activities, the memory of the loss still fresh, but added that she knew those teammates would return in time for spring.
If Jones represents the biggest change for each team in some time, returning assistant coach Jeff Stromme has so far served as a constant that has benefited both Jones and BLHS' players.
"We would not be where we are without him," Jones said. "We really made huge gains, even in one week we've made major gains."
Much of the week spent with the girls focused on the game's fundamentals. Ball touch, passing, receiving. Jones added that more time was spent focusing on defensive tactics with the boys during the previous week.
Next summer, Jones plans to introduce a youth camp to continue to foster interest at a young age. He also plans to swap the dates of the boys and girls camps to be able to work with the boys closer to the July 19 cut-off.
Whereas some players thought structure lacked last season, Nirschl believes the program has been handed off to good hands for her final campaign.
"He came from a really good team and I think he will change our program," Nirschl said. "We don't know how he's going to coach, so the same fear is in us that is in the freshmen. I think the boys will come a long way and we will, too."