BSHS

grad Kimbrough-French calls Shrine Bowl event one of life's best weekends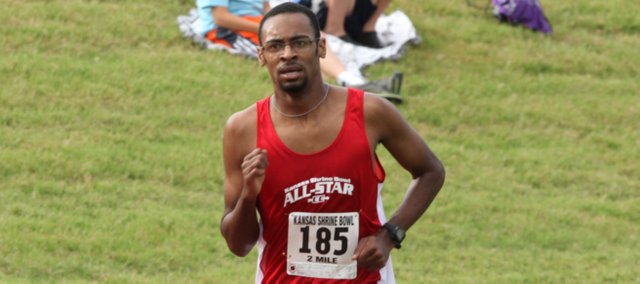 T.J. Kimbrough-French has been running since his childhood. But in the rare moments during which he's stationary, collecting his breath after two-mile runs, the recent Bonner Springs High grad is reflective.
Such was the case Saturday when Kimbrough-French crossed his final finish line while representing his high school — he was one of 60 runners to compete in the Kansas Shrine Bowl's all-star cross-country race that preceded the night's annual football game at Washburn University.
"I can say I didn't expect the letter in the mail," Kimbrough-French said of his invitation to the race. "They're all such good athletes here; I'm just lucky to be a part of it."
"This was one of the best weekends of my life," he added.
The two-mile route looped around the college's athletic fields before concluding inside Yager Stadium, where about 7,600 spectators looked on. And it wasn't even the best part of Kimbrough-French's weekend.
Previously, Kimbrough-French and his fellow Shrine Bowl participants visited patients of the Shriners Hospitals for Children. Some children, Kimbrough-French said, were without arms or legs. Most, he added, packed a perspective that floored their visitors.
"It really shakes you in the heart what these guys have done," Kimbrough-French said.
Kimbrough-French recalled talking to a girl who had lost her arm and realizing how any fatigue and headaches brought on by running a race was nothing compared to some of these children's plights.
Kimbrough-French likened the experience to a recent trip to Belize with the nonprofit Kidz Konnect 4 Jesus, an organization that provides food and school supplies for poverty-stricken children. Last year, Kimbrough-French helped raise funds for the nonprofit by hosting his own 5K at Wyandotte County Park, dubbing the race "Keep It Moving Brough," a play on his last name.
Unlike the football all-star teams, which pitted recent graduates from the west side of the state against those from the east, all runners practiced together during the week of the Shrine Bowl.
"We practiced and hung out as a whole cross-country team. It was just amazing," Kimbrough-French said.
"I was very nervous going against these guys," he added. "There were school-record holders and state champs, and I'm just a kid lucky to go to state a few times."
Kimbrough-French next plans to compete at Johnson County Community College.