From the stars to the heavens: Edwardsville native turns from scientific aspirations to life as a priest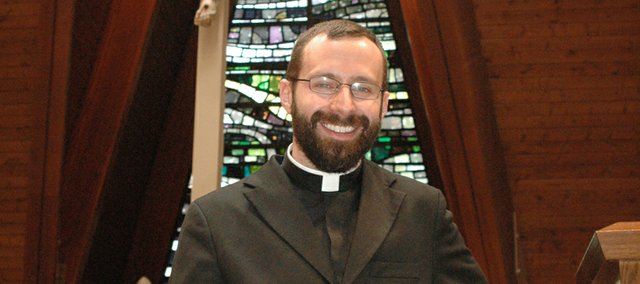 Nathan Haverland has a mind for science, and when he graduated from Bonner Springs High School in 2001, he wanted to become an astronaut.
As he set out to study the heavens from a scientific standpoint, he never imagined that his enrollment at Benedictine College would put him on a journey of faith. Now, his dealings with the heavens are of a religious nature: On May 25, nine years after first becoming a Catholic, he was ordained as a priest.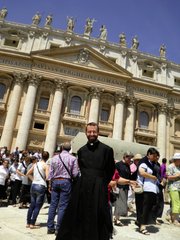 "Which is about as quickly as you can do it," he said. "Which is not necessarily what I had planned, but it's a great joy."
Haverland said he was several years into his seminary studies before he committed to becoming a priest.
"There was never a St. Paul moment," Haverland said, referring to the saint who heard a command from the Lord to convert when he was thrown from his horse. "I like to use the image of a plant growing. The plant gradually grows into its final product. …
"It wasn't until shortly before becoming a deacon that I was like, 'OK, this is for sure what I'm called to do. This is for me, this is what's going to bring me happiness, this is what I'm made for.'"
Haverland and his older sister grew up in Edwardsville with his mother and stepfather, who were raised Catholic but never attended church in Haverland's youth.
"I wasn't raised with any kind of faith or anything…," he said. "Sunday was just another weekend day, just another Saturday. I didn't know anything about God. I think we all have the inherent desire to know God. I mean, I had a lot of questions, but I didn't know anything growing up."
As a student at Bonner Springs High School — where he took Latin classes that eventually would be helpful in a way he didn't realize — Haverland found he would much rather be conducting scientific experiments than writing English papers.
He said he knew he wanted to study physics and astronomy after high school, because "I was pretty sure I was going to be an astronaut." Only two colleges in the state offer both fields of study: Kansas University and Benedictine College.
Overwhelmed by the size of KU, Haverland said he felt more at home at Benedictine, though he didn't know anyone who had gone there.
"So I kind of took my first leap of faith, I guess, going to this small, Catholic college that I didn't know anything about, knew nothing about the church, knew nothing about the college, didn't know a single soul there," he said. "So that was a huge step for me. But I went there and just had a great time."
Benedictine students are required to take theology classes, so Haverland began to learn about the church. He said he remembers going to Mass for the first time and, quite frankly, he wasn't too impressed.
"It was just too much standing and sitting and recitation of long prayers and stuff…," he said. "But as I learned about the church, I don't know, it just all kind of made sense. As you learn the reasons behind why the church does the things she does, it just all made sense. It was very beautiful, logical."
During his junior year, he decided to try the class for those who wanted to enter the church, where he says he started falling in love with the church. In 2004, he was baptized and confirmed and received first communion.
"It was very beautiful — it was the beginning of my life as a Catholic," he said. "I still never would have imagined that I would be a priest at that point."
By graduation, dreams of becoming an astronaut had fled thanks to the intense physical requirements, so Haverland turned to nuclear engineering and radiological sciences, hoping to someday work in a hospital. He got a scholarship to the University of Michigan, which happens to have one of the best nuclear engineering programs in the country.
It was another leap of faith, since again, he knew no one at the school, but Haverland found a good parish in the area that became his second home. He even helped found a house of discernment for men of the Catholic faith.
"I got to know two young priests really well, so that's where I started this process of thinking about the priesthood; they kind of invited me into their priestly life," he said.
By that point, Haverland said he wasn't happy with nuclear engineering and knew it wouldn't bring him happiness, so he started looking into religious orders and the priesthood, even though he had a girlfriend at the time.
"So I was sort of exploring all of my options, and the thing I could be most peaceful about was trying the seminary out for a little while," he said.
Feeling that Michigan just "wasn't home," Haverland decided to seek entry to seminary in Kansas City, Kan. He visited St. Patrick's Catholic Church in Kansas City, Kan., and was praying the Liturgy of the Hours following a Mass when Monsignor Mike Mullen approached him.
Mullen said he was impressed with Haverland's science acumen and his obvious dedication to his faith. He supported Haverland in his consideration of the seminary.
"I think it did provide him an opportunity to him to say 'Well, somebody else sees this in me,'" Mullen said.
Haverland visited with Archbishop Joseph Naumann of the Archdiocese of Kansas City in Kansas and made the decision to enter the seminary. In his decision to choose a priestly life, he said he knew it was possible to love the church and not be a priest, too.
"It was something about that radical-ness of the gospel, leaving everything behind to follow Christ," he said. "And you see that not everybody is called to live that out so radically, but I felt in a certain way, I was … at the same time, I was very attracted to being with the people, helping them through all walks of life."
While Haverland was well-versed in the sciences, he says he did not find any conflicts between the laws of science and accepting religious teachings based upon faith.
"People often think that the two are somehow opposed to each other, but history shows that the two have worked well alongside each other…," he said. "The conflicts between science and religion tend to occur when either of them steps out of their area of expertise. But overall, the two shouldn't be contrary to one another because they study two different things. Science studies the universe and theology studies the author of the universe."
Mullen said he thinks Haverland's scientific knowledge can only help him as a priest, saying Haverland will be able to frame homilies in a way that people will understand and can draw comparisons between scientific laws and spiritual realities.
"I think as folks understand his science background in particular, it helps them to understand the scientific world, and people will be comfortable talking to him because he knows the lingo," Mullen said. "In return, that will enable him to delve deeper into theology."
Haverland was able to offer his first Mass the day of his ordination at Benedictine, the same place where he was confirmed, and his first Sunday Mass of Thanksgiving the next day at St. Patrick's, where he is temporarily residing. In July, he begins his first assignment as Parochial Vicar at the Church of the Ascension in Overland Park, the second-largest parish in the archdiocese.
Haverland said he looks forward to performing mass and the sacraments and to fulfilling the role for which he was destined. It is part of what led him to make his decision, he said: Being with those in his parish at the biggest moments in their lives, whether they are the happiest moments at a baptism or wedding or the saddest at a funeral, as well as seeing them every Sunday, helping them grow in holiness.
"Just getting to be that minister, that person standing there with the people being God's minister in those times, it just seemed like that was it, that's what I was meant for," he said.