College coach,
BSHS

alumni help instruct weeklong wrestling camp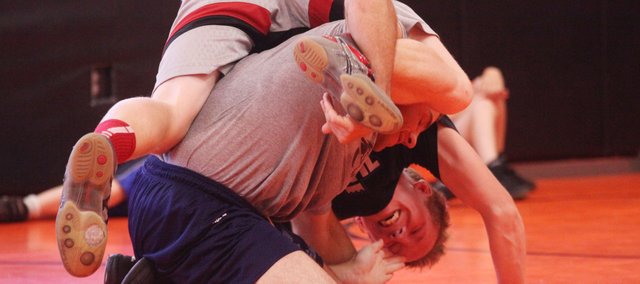 Photo Gallery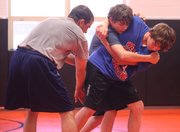 BSHS wrestling camp: June 10-13
BSHS wrestling coach Brandon Jobe welcomed his former college teammate and current Colby Community College coach David Nordhues to help instruct a group that truly spanned the spectrum of its wrestling program.
Windows were slid open in a futile attempt to relieve the oppressive humidity inside the Bonner Springs High wrestling room on the final day of a weeklong camp. The 40 wrestlers jammed inside looked as if they'd rather be nowhere else.
BSHS wrestling coach Brandon Jobe welcomed his former college teammate and current Colby Community College coach David Nordhues to help instruct a group that truly spanned the spectrum of its wrestling program.
"You go all the way from two-time state champion Johnny Blackwell to 5-year-olds which is fun," Nordhues said on Thursday.
Make no mistake, Nordhues said, teaching the sport to kids was quite the departure for the college coach — which isn't to suggest the message was any different.
"We'll teach the same fundamentals to a 5-year-old that I'll teach to a 19-year-old," Nordhues said. "It's the same double-leg, it's the same single-leg and that's what beats the best kids in the country."
Smiles shared real estate with sunken eyes, sweat and, sometimes, blood on the faces of many campers. Four days scrimmaging against one another — with the loser oftentimes tasked with performing an additional set of exercises — is what one could safely call a decent workload.
But instruction was peppered with games like "sharks vs. minnows," in which a designated shark had to tag as many campers as he could as they ran from one side of the room to the next, those tagged now recruited to join him in his efforts. Or an impromptu dual meet, in which the room is split and a ledger is taken on which team wins the most duals — the first to two takedowns being the winner of a given match.
It was Team Megadome vs. Team … Ultra Megadome. Coaches Blackwell and Jared Johnson. To the losers, 30 burpees at the suggestion of one young camper.
"I hate you!" a friend protested. "You're on my team if we lose."
"Obviously we want them to learn some things, but to also have fun and stay excited about the sport of wrestling in the offseason, as most people think of it," Jobe said later.
Jobe's addendum was appropriate because of the lack of true offseason in the BSHS wrestling program. Wooden plaques bearing the name of state champions aren't propped up overnight. As Jobe would tell the group after doling out camp T-shirts, "summer soldiers make winter warriors."
"It's important to get them in here," Jobe said. "Getting them in here and experiencing something in the summer has been something that's been missing around here for awhile."
It's something Jobe has sought to improve in his four years as BSHS coach. Following the camp, the wrestling room will be open Monday and Wednesday evenings. And multiple youth and high school wrestlers are preparing to compete in state and national tournaments this summer, including the annual Junior and Cadet National Championships in Fargo, N.D.
"Really, if you go up there and do well in that tournament, it's more of a gauge for college coaches than high school state tournaments," Jobe said, adding that nearly every NCAA college coach can be spotted in Fargo.
Senior-to-be Josiah Seaton will be busy this summer, starting with the Junior National Duals June 25-29 in Oklahoma, where he will compete alongside Blackwell. Seaton and fellow senior Dominic Salvino are also training for Fargo. In Salvino's case, he's going all out for a sport he just picked up a few years ago.
"Even just one summer coming in here all the time will get you really good," he said.
And club members Corbin Nirschl, Collin Waller, D.J. Ballard and Jacob Folsom recently traveled to Florida to represent Kansas in the Cadet National Duals.
"It's a hard sport," Jobe said, "but I want them to have a fun time while they're doing it and to get them hooked early. That's part of it."
Added Nordues: "That's the future. That's what feeds the program. These guys do a good job keeping these young kids involved all times of the year and trying to make it fun so they want to come back next time."
Blackwell to Bethany College
Not long after competing alongside Seaton later this month, Blackwell will prepare to report to Bethany College in Lindsborg where he will both wrestle and play football.
Blackwell, the 4A state champion at 152 pounds his senior season, visited larger programs like the University of Missouri and Nebraska, but Bethany offered the best financial fit and also the opportunity to play two sports for an NAIA program.
"I knew if I did one sport in college I would miss football. If I did only football, I would miss wrestling," said Blackwell, the BSHS male student-athlete of the year. "It's pretty nice that I get to do both. A lot of people don't get to do that."
Jobe added that, in wrestling, the opportunity to go to school for free is "really almost unheard of."
Blackwell said he wants to study physical therapy or chiropractics. And after his first year, he said, he plans to decide whether to focus primarily on wrestling or football.
Blackwell's former teammate and 4A 160-pound champion Aaron Puckett will wrestle at Fort Hays State University after signing a letter of intent earlier this year.
Stay tuned for more photos from the BSHS wrestling camp.