BSHS

girls upset by Tonganoxie in sub-state semis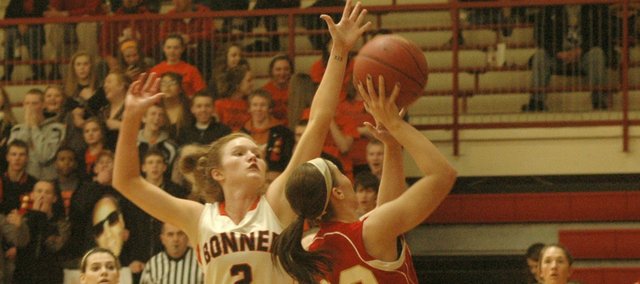 Tonganoxie — The Bonner Springs girls' bid for a return to state came to an abrupt halt Friday with a 49-45 overtime loss to Tonganoxie in Class 4A sub-state semifinal action at THS.
The Braves (17-4) entered the game as the tournament's top seed and had defeated the fourth-seeded Chieftains (14-7) earlier this season, but foul trouble cost the team its top three scorers down the stretch.
"We didn't do a good job taking care of the ball," coach Clay Oakes said. "We had a lot of traveling calls where were just out of control, and we didn't attack the basket very well. They did a good job of attacking the basket and getting us in foul trouble, and we didn't. That was a big part of it."
Oakes' squad took a 34-30 lead into the fourth quarter, but THS opened the period on a 7-0 run to go in front. The Braves scored the next four to go back in front with 4:16 remaining, and a power struggle ensued.
Neither team led by more than two points for the rest of regulation. Bonner Springs had a chance to win it in after a steal in the final seconds of the quarter, but Haley Hoffine's half-court heave clanked off the rim at the buzzer, and the game went to overtime tied at 41-41.
The Braves started the extra period at somewhat of a disadvantage, as Hoffine and Anna Deegan each had four fouls. Julianne Jackson was already out of the game after picking up her fifth foul midway through the fourth quarter.
"That's real tough, especially when it's your top three scorers. We were fighting an uphill battle," Oakes said.
THS scored the first six points of the extra period and never relinquished the lead. The Braves didn't go quietly, though, as they got back within three and had a chance to tie in the final seconds However, Tonganoxie's Jenny Whitledge blocked a three-point attempt by Hoffine with 18.2 seconds remaining and Hannah Kemp made it a two-score game with a free throw with just 4.4 ticks left.
Hoffine and Deegan paced Bonner Springs with 14 and nine points, respectively. Whitledge led all scorers with 15 points and pulled down 11 rebounds for a double-double.
Bonner Springs jumped out to a 12-7 lead at the end of the first quarter, but the Chieftains opened the second with four quick points to get back within one score. THS briefly took a 23-22 lead in the final minutes of the first half, but the Braves closed out the quarter with five straight to take a 27-23 lead into the break.
THS will play second-seeded Atchison (15-6) at 6 p.m. Saturday at THS for a trip to next week's state tournament in Salina. AHS reached the title game with a 59-47 win against Piper in Friday's other semifinal.
Score by quarter
Tonganoxie 7 16 7 11 8 — 49
Bonner Springs 12 15 7 7 4 — 45
Individual scoring
TONGANOXIE — Jenny Whitledge 6-12 3-7 15, Emily Soetaert 5-12 0-4 13, Madee Walker 2-6 2-4 8, Hannah Kemp 0-4 7-10 7, Katelyn Waldeier 2-7 2-5 6.
BONNER SPRINGS — Haley Hoffine 5-11 2-4 14, Anna Deegan 4-16 0-2 9, Kaleigh Taylor 3-6 1-2 8, Kennedy Bizzell 2-3 0-1 4, Abrise Sims 2-6 0-0 4, Mikaela Bennett 1-2 1-2 3, Julianne Jackson 1-7 1-2 3.