Weekend snow disrupts stretch of spring sporting events for
BLHS

,

BSHS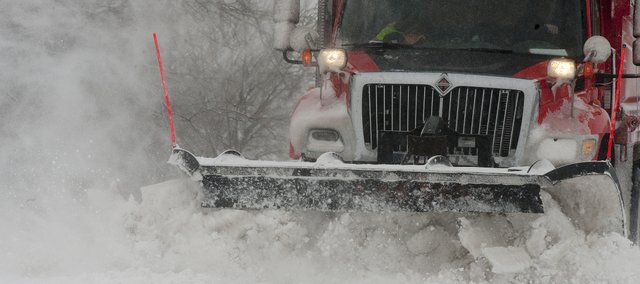 Spring sports previews
Revisit our 2013 spring sports previews to catch up on what you need to know as the season begins.
The last several days have seen grievances levied against inaccurate groundhogs, frozen windshield wipers and, now, the further delay of the onset of spring sports.
Every outdoor high school spring sporting event slated to serve as the respective season-openers for Basehor-Linwood and Bonner Springs programs was either postponed or cancelled the first three days of this week.
On Monday, the Bonner Springs boys tennis and girls soccer matches were both postponed. That carried over into Tuesday with the postponement of the BSHS boys tennis team's dual against Bishop Miege to April 26. The girls soccer team's home opener against Ottawa was instead moved to April 29 and Mondy's game at Tonganoxie was rescheduled for April 11.
The BSHS baseball team's opening doubleheader at Lansing was rescheduled for Saturday with games set to start at 1 p.m. and 3 p.m., respectively. Furthermore, Thursday's games have also been affected: the BSHS baseball team's doubleheader at Piper was rescheduled for April 22 and the softball team's doubleheader, also at Piper, was postponed to April 15.
The Basehor-Linwood baseball team was set to begin its season against defending Kaw Valley League champion Mill Valley on Tuesday. That game will instead be played on May 8, five days before the Class 4A regional tournament. The Bobcats' Thursday game at Tonganoxie was also cancelled. The BLHS softball team's scheduled opener against Blue Valley and Blue Valley North was also cancelled, with a makeup date yet to be announced. Meanwhile, the BLHS girls soccer team's game at Baldwin, scheduled for Wednesday, was rescheduled for May 8.
"In my years as a coach, I've never recalled a season like this ever," BLHS softball coach Susan Mayberry said.
Mayberry spent the early portion of the week driving around in search of even an open surface of pavement to practice defensive sets.
"This is a first for us," Mayberry said. "The biggest thing is defensive sets. We need to either play out on our field or spend four to five days on the road to see what we have and how we deal with pressure."
The Bobcats' new opener is slated for Tuesday against defending league champion Mill Valley, one week after both teams' seasons were to have begun.
"They're in the same boat as we are," Mayberry said.
In anticipation of a weekend storm system that dropped four to seveninches of snow throughout the area, last weekend's scheduled events dropped like flies.
Saturday's scheduled BSHS baseball alumni game was rescheduled for 7 p.m. May 10. On the bright side, BSHS baseball coach Scott Lero noted, moving the game back should allow returning alumni to play on a newly renovated field come May.
"Hopefully it finally works out this year and now we will do it under the lights," Lero said.
The final weekend high school sporting event left standing was the March 23 Sunflower Classic golf tournament at Sunflower Hills Golf Course. However, swinging sticks amidst snowflakes soon lost whatever luster it had as organizers moved the tournament to Saturday.