Soccer's sister act:
BLHS

,

BSHS

siblings connected at young age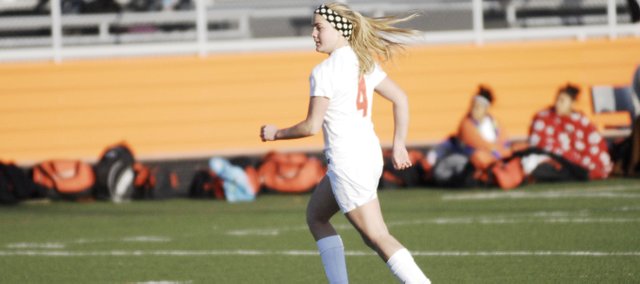 For one rare season, two sets of siblings have taken the field for both the Basehor-Linwood and Bonner Springs girls soccer teams, and the similarities don't end there.
On each team, two upperclassmen elder sisters are shadowed by an underclassman who made her way to varsity early. And, on both teams, one senior is in the lineup with her little sister for a final time while a junior looks across the field during games, knowing the location of her other half at all times.
All eight — Basehor-Linwood's Samantha and Nicole Rutherford and Hailey and Courtney Robinson, and Bonner Springs' Skyler and Shelby Taylor and Bailey and Miyah Hightower — began their careers at the same place, their playing time overlapping under the guise of BSHS girls soccer coach Mike Moulin, who also coached the girls at the youth level through eighth grade.
"Each player brings a different quality to the table," Moulin said.
Samantha and Nicole Rutherford
BLHS senior Samantha Rutherford is not ready for the season to end. She removes herself from conversation for a moment, emotional at the thought of the window of time spent playing soccer with her sister, freshman Nicole Rutherford, coming to a close.
"It makes me sad," Samantha said, knowing already what she'd tell herself if it was she in the role of little sister. "Enjoy it while it lasts. You won't realize until you are a senior how much you'll actually miss it all."
All season, the Rutherfords have manned the center-midfield positions for the Bobcats.
They've been here before, that bittersweet moment as a season neared its close, as both Rutherfords played volleyball together last fall.
In soccer, the Rutherfords' rapport, and Nicole's history playing the sport years before high school, benefited a BLHS team low in numbers this season.
"They seemed to understand concepts quicker," BLHS girls soccer coach Derek Mazeitis said of Nicole and Courtney. "Maybe it's them watching their sisters the last couple years."
Having the Rutherfords (and Robinsons) on the field at the same time often means one less communication breakdown to fear, a welcome commodity on a young team. In fact, Samantha has even noticed similarities in her sister's style of play, something Nicole reaffirmed.
Added Nicole: "My sister and me are like the same person, so it's kind of like we work together really well."
Samantha will attend Kansas State University in the fall, and expects to involve herself in intramurals, but varsity team sports will end for her at the final whistle of this season.
Hailey and Courtney Robinson
Last month, in a 3-2 loss to KC Christian, BLHS freshman Courtney Robinson netted a goal to the delight of a proud older sister, junior Hailey Robinson.
"My little sister had just scored," Hailey said. "That's pretty cool. You get to go home and tell her good job and she's proud of it."
The strike marked yet another step in the younger Robinson coming out of her shell as a varsity soccer player. Like the Rutherfords, the Robinsons also played volleyball together in the fall.
"It's a thing in high school that she's also involved in," Hailey said. "Being upperclassmen and underclassmen, usually you don't have much in common, but we have something we can always talk about."
Hailey said she hopes to play volleyball at Northwest Missouri State upon graduating in 2014. Like soccer, she took up the sport at a young age. It's no coincidence that Courtney followed suit.
"I kind of do what she does," Courtney said.
If the Robinsons genuinely enjoy one another's company — and they do — sharing the field with her older sibling has also elevated Courtney's level of play, she said.
With Hailey having been a stalwart on the defensive side of the ball since her freshman year, the standard was already set for the latest crop of freshmen. But when a lapse occurs, the sisters know they can confide.
"You know when you go home, she's not going to be mad at you," Courtney said, "that she can still yell at you and you can take it well."
Bailey and Miyah Hightower
By now, Moulin can see it clearly.
"Every time Bailey gets the ball, who's the first person she wants to look to? She wants to look for Miyah because she trusts Miyah with that ball at her feet," Moulin said. "She knows that Miyah will make good decisions and do the right thing."
Added Bailey: "We don't really have to communicate that much and that's really helpful."
Miyah emerged this season as one of two freshman scoring threats — alongside Julianne Jackson — making the transition to varsity with few if any signs of growing pains. Often, before Miyah finishes off a volley, it's after being on the receiving end of a well-placed ball by her big sister.
"We just expect each other to be there because we're so used to playing together," Miyah said.
Soccer has been Bailey's only sport for years, and Miyah grew up wanting to follow her older sister. Sense a theme here? Though accustomed to being the only Hightower on the basketball court, Miyah is not yet ready to be without Bailey on the pitch.
The two were apart for a few seasons once Bailey went to high school, but will have one more season together after this one.
"It's hard to play without her," Miyah said. "I don't know what I'd do without her on same team."
Skyler and Shelby Taylor
Hailey Robinson remembers last year's game between BSHS and BLHS, during which then-BSHS junior Skyler Taylor tore her ACL.
"The girls who played with her (growing up) felt for her," Robinson said.
Some Bobcats even visited Skyler after her surgery and circulated get-well wishes on Twitter.
"I think all of our teams are like one family," Skyler said.
Now wearing a large black brace on her left leg, Skyler rehabilitated the injury enough to return for a final season, and one more year with her sophomore sister, Shelby.
"Since she's my sister," Shelby said, "she's someone I've looked up to playing soccer all these years. I rely on her if I have any questions."
After graduating in May, Skyler plans to attend Haskell University in Lawrence. Neither of the Taylor sisters expect to play the sport much after high school, but that time can wait just a little longer. Both BLHS and BSHS hope to make it through regionals later this month, capping the careers of a handful of seniors with a trip to state. But Moulin, the man who helped hook many of the girls on each team to the sport, insists that this period of time transcends wins and losses. Yes, you want to be competitive, he said, but fun is no less a factor.
"You want to enjoy your high school career because after that, who knows?" Moulin said.